Making a Name for Herself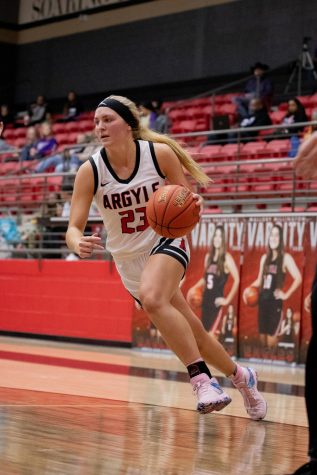 A whole new town in a whole new state, full of a whole new variety of people and opportunities. For most, a fresh year at a new school is a terrifying and grueling experience, and in no way is attention wanted or needed. For one of Argyle High School's newest students, however, the opposite is true. Caroline Lyles may be new to this town, but the senior is determined to make a name for herself in what she loves most: basketball.
Since she was just five years old, Lyles has had a passion for playing basketball. She worked hard in her hometown in Arkansas to be the best she could be for herself, her coach, and her teammates. Then, after her junior year had been completed, she moved from Arkansas to Texas, to a little town in the almost middle of nowhere.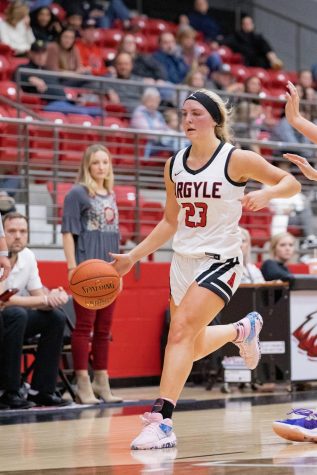 "I didn't know anyone, and nobody definitely knew who I was," Lyles said.
With all the amazing progress behind her, left behind in Arkansas, Lyles decided that she was going to continue her passion. It didn't matter if she was somewhere completely new and different. That wouldn't stop her from continuing to aspire to play.
"This is not an obstacle, rather an opportunity to start making a name for myself around here," Lyles stated.
The fourteen years of hard work and dedication paid off as Lyles made the Lady Eagles varsity basketball team and the season is in full swing, with six games played overall.
"Our team goals this year are to be district and state champions, and also beat all the teams we lost to last year," Lyles said.
While there is a whole season ahead for team improvement, there is also time for individual development as well, especially for Lyles.
"My personal goals are to help lead my teammates to district and state, and to become an all-conference player," Lyles stated.
Being a senior in an entirely new town and school, with no knowledge of the people there and the experiences you might encounter, is still difficult to overcome, but Lyles will not let that fear get her down, and she plans to finish off her high school basketball career strong here at Argyle.
"It's been a challenge, that's for sure," Lyles said. "But it's also a way I can push myself to my limits and show everyone here who I really am."