Dancing On Trophies
A look into the 3x State Champion Majestics Team
3x State Champions in February, the Majestics' 2021- 2022 season comes to a close. 
The team began to prepare in July and practiced throughout the football season. Placing in four routines, poms, jazz, contemporary, and novelty, the team earned a back-to-back State title among other top awards. 
"Winning is a great accomplishment for our team to continue on the legacy of Argyle High School," Head Director Haley Martinez said. "However, each year our goal is to continue to build a strong respected program that can create strong independent individuals that work together as a team and are proud of themselves every time they finish a dance."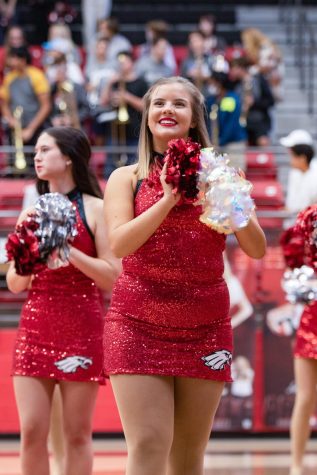 Every morning, 5 days a week, they practiced. The gap between July and contest season can be exhausting. However, the team stayed motivated throughout the year.
"This team and seniors did not question why they were here and pushed through the really tough days," Martinez said.
For seniors like service officer Cassie Carter and captain Zoe Sealy, this year's state title holds even more meaning.
"[Winning State] was extremely rewarding especially since two of those years were [impacted by COVID-19]," senior and service officer Cassie Carter said. "We haven't really gotten a normal high school experience, so to get to end on a positive note was awesome."
In their time with Majestics, Carter and Sealy have seen success from the hours of practice and team bonding.
"I learned hard work and dedication really do pay off," senior and captain Zoe Sealy said. "Getting to see how not only me, but other girls have grown throughout these past 4 years has really shown that you can accomplish anything."
As of May 19, the seniors officially became Argyle graduates. Carter reflected on how Majestics gave her a second home.
"It gives you an escape," Carter said. "It gives you a place you can be with your best friends, and dance is an art form. You get to release your emotions and there's everything from contemporary to hip hop and you can just be yourself and express yourself."
Excited for the future of Majestics, both Carter and Sealy offered advice to new members.
"Soak in every single moment and don't [hold] grudges over the little things," Sealy said. "Life happens, mistakes happen. You just have to keep pushing forward and know that things will be okay."
Carter offered a more sentimental take.
"Be prepared to have some of the best memories you'll ever have and work hard because it's so worth it in the end," Carter said.