Lady Eagles Basketball Rises Above Honeybees
Advance to Regional Tournament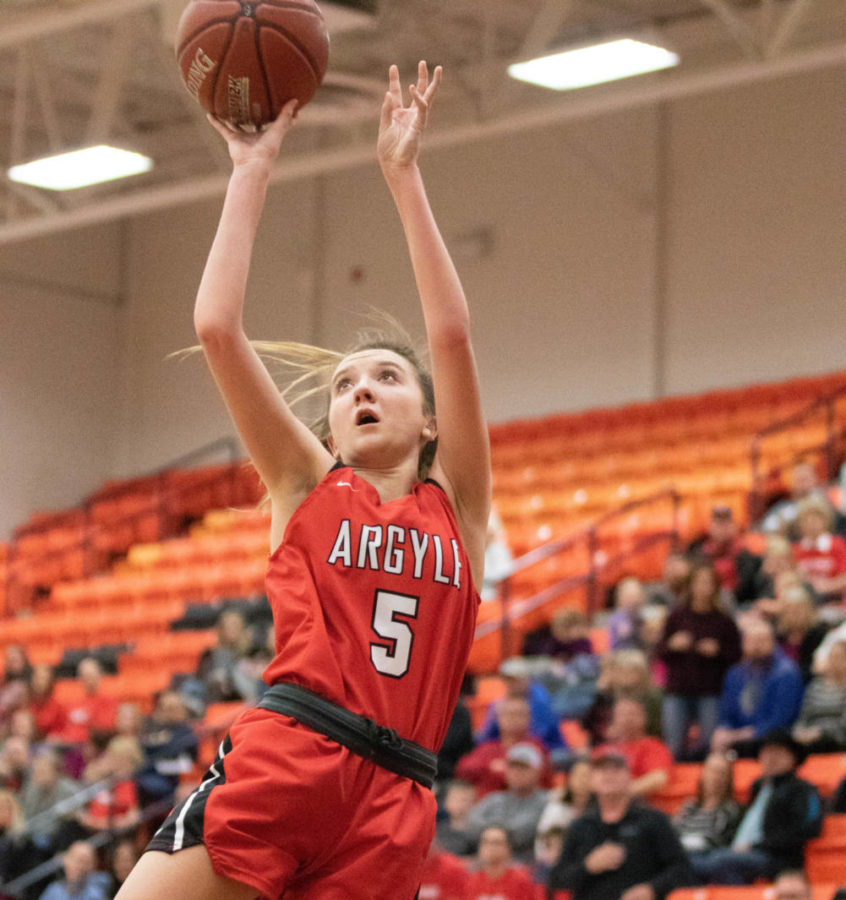 For the sixth consecutive time, the Lady Eagles have made it to the regional tournament. The girls made it with a commanding win over the Stephenville Honeybees 40-25, at Aledo High School, on Feb. 19.
The Argyle woman-to-woman defense allowed the Honeybees two four-points in the first half. Then, in the third quarter, the Honeybees outscored the Lady Eagles 10-6. However, Argyle was able to expand their lead after scoring 17 points, to the Honeybees seven. The Lady Eagles forced Stephenville to play at their pace, pressing them to make difficult shots and turnovers, and were able to use their size advantage in the post, scoring 26 points in the paint to get the victory.
The game was dominated once again by junior Rhyle McKinney, who single-handedly scored more points than the entire Honeybee offense, dropping 31 points. Along with the dominant offensive splurge, she tallied three rebounds, an assist, made 4-5 free throws, and was very aggressive on defense with three steals and a block.
Junior Brooklyn Carl scored two points, with two assists, four rebounds, and was also aggressive on defense, getting three steals, with both points made on free throws. Junior Abby Williams was a great defensive presence, scoring two points and grabbing seven rebounds (tied for game-high). She also blocked two shots and had a steal. Junior Kiley Lavelle used her height to command the paint, grabbing seven rebounds (tied with Williams for game-high), accompanied by two points. Senior Kennedy Reeves was able to have a presence in the paint, grabbing crucial offensive and defensive rebounds to sustain the lead, despite not scoring.
The Lady Eagles will compete in the regional tournament at Lubbock Christian University in Lubbock, Texas, with times and opponents TBA.
Jr. Brooklyn Carl – 2 points, 2 assists, 4 rebounds, 3 steals
Jr. Rhyle McKinney – 31 points, 3 rebounds, 1 assist, 3 steals, 1 block
Jr. Abby Williams – 2 points, 7 rebounds, 1 steal, 2 blocks
Jr. Kiley Lavelle – 2 points, 7 rebounds
Sr. Kennedy Reeves – 4 rebounds
So. Bailey Timmons – 3 points, 3 rebounds, 1 steal.