Band All In For All-State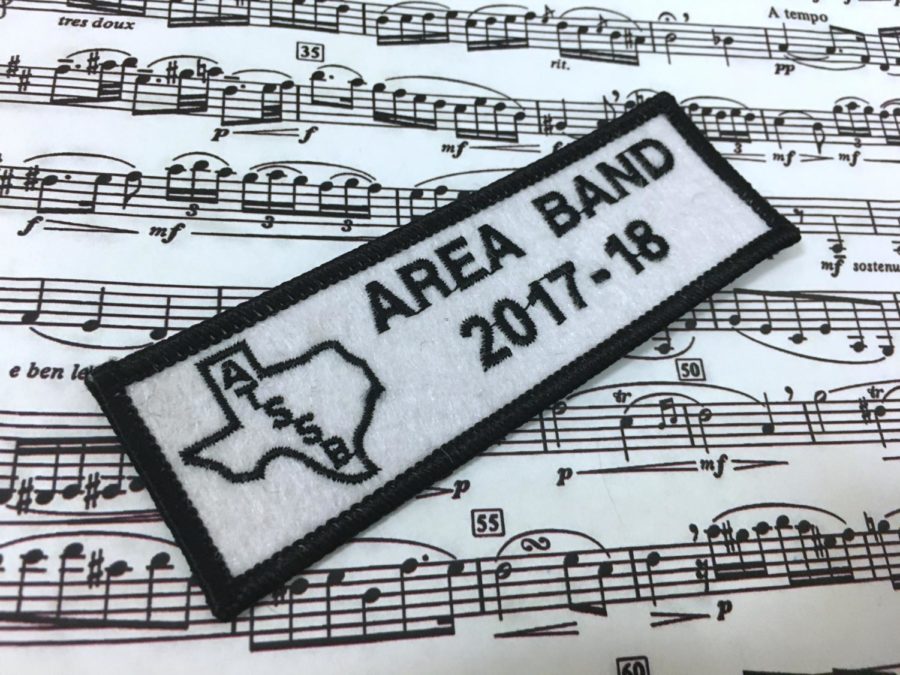 A chaotic mix of melodies bounces off the walls. Students line the halls, frantically looking over music and checking their instruments. Preparing. Waiting.
Every fall, band students around the country tirelessly prepare two etudes, attempting to make them perfect to audition for the All-Region band. The top-performing students progress onto area auditions for the chance to make it in the All-State band. This year, Argyle had 75 students audition, 44 make it, and 28 progress to area. Two of these students, are Audrey Livingston and Nick Lessley. Livingston is a senior on her way to hopefully becoming a four-year all-stater, and Lessley has made area as a freshman, one of the few students able to do so.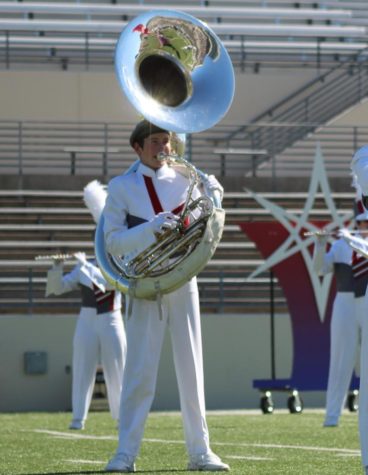 Nick
---
"It feels really cool being able to go and participate and try to make it to state," Lessley said. "Which is something many people never get to do."
Qualifying for state is not easily obtained and is an even bigger feat for a freshman.
"I'm thrilled," Burk said. "I taught Nick when he was in 6th grader so he walked into a band as a 12-year-old kid and seeing this goofy 12-year-old kid grow into a freshman tuba player who made Area, that's pretty exciting."
The lessons that Lessley has learned while working towards this accomplishment, will follow him late in life.
"Being advanced to Area as a freshman is a real tribute to Nick," tuba private lesson teacher Carl Kleinsteuber said.  "He has a bright future ahead of him, no matter what field he may ultimately choose."
There's a lot of excitement surrounding making the region band, especially after the actual auditioning being a very stressful process.
"The region process was intimidating," Lessley said. "I was going against a lot of students older than me. While I was signing in and waiting my turn I was nervous but I knew I would do good."
There is a large jump in the level of intensity and competition between middle school and high school region auditions.
"I had to practice a lot more because I knew it would be a lot harder to get a higher chair than in middle school," Lessley said. "I think I can make it this year, but if I don't make it this year I will just try harder to make it in the next years of high school."
Dedication is one of the most important factors of success with auditions, and Lessley's focus so early on is evident.  
"Nick is conscientious and hard worker with great attention to detail," Kleinsteuber said. "He is a self-starter who is very motivated.  His preparation has included careful, methodical practice of musical fundamentals, as well as of the prescribed audition material."
With the help of others listening and commenting on his playing, Lessley can take his abilities even further.
"We're about a month away from the area auditions," Burk said. "We have a plan for the kids where they come in once a week and I think both of those players [Nick and Audrey] have taken the initiative to get that process started. Nick came in and asked some questions and we had a conversation about what would it take to get in the top level."
In order to compete with the other players in his area, Nick is going to have to bring and improve on his best.
"With Tubas there will be four of them from each region, 16 in the area room, and they will take two [to state]," Burk said. "So we talked about what that means. The performance he had played for me on that scale would put him in the higher level but not the elite. He's starting to open his eyes and see the big picture of things like 'I may be good at Argyle but there are people out there who are on a different level and I could be just as good.'"
For Lessley, his audition is the culmination of all the frustration, anxiety, and sacrifice he has put into this music. His possibility to move onto Area and State is a lifetime opportunity.
"Auditions are funny," Kleinstuber said. "Preparation is crucial, but a lot depends on how the day goes.  It's important to know how to 'peak' at one's full potential on that day.  We're currently working on all these things. I think he'll do great."
Update: Nick Lessley was two seats away from making the All-State band.
Karina Navarro
Audrey
---
"[I'm] really excited," Livingston said. "It's hard to do well once, but it's even harder to consecutively do well. It's a lot of pressure because the fourth time [auditioning] is your last time, but I'm super excited that I made it and super proud… and glad that it's my last time."
Livingston has played the flute for six years and has always been in the top band throughout her musical career.
"Audrey has an amazing work ethic," Assistant Director of Bands Asa Burk said. "She is very dedicated to what she does. She is very thoughtful, she is very deliberate. She takes great pride and goes to great lengths to make sure the tiniest details are correct and I think it's that characteristic that separates her from the average bunch of kids."
In addition to being an all-stater and in the top band, Livingston is also in the top of her class.
"She's just a high-level achiever, she's focused," Burk said. "I think she operates on a different level than most kids. A deeper understanding of a lot of things. The conversations that she's able to have with adults is a little more than 'How's your day going?' I think she's a great kid."
With the help of a private lessons teacher outside of school, Livingston is able to put even more time into her talent.
"I definitely practiced a lot," Livingston said. "Similar to what I did in the past. Pretty much a lot of reps slow is how I practice and then the day of, you just have it all under your fingers no matter what tempo you go."
Hours upon hours of practice go into these auditions, with nearly a month between region and area auditions.
"Audrey's attention to detail in her playing kind of separates the average player to the above average player to the elite player." Burk said.
The region auditions have a lot riding on them, especially with the possibility of moving on to Area and then to state.
"I always get really nervous," Livingston said. "There's always the 'what ifs' but you just have to be confident with how much work you've put in. There's always going to be someone that's better than you and you just have to know that and be ok with that. Be confident with the work you put in, that's what I've learned."
Progressing through the region process, there is more and more competition with even fewer spots to fill.
"When she goes to Area, there will be 24 flutes in that room," Burk said. "And she has to place in the top four. Those odds alone make it seem that you have minimal mistakes, a high level of artistry in your performance. I think Audrey knows what that takes because she's made state for three years. She'll employ that and she's on a good track for that."
Making the all-state band for four years is a rare feat that earns the student a $2,000 scholarship.
"I'm super excited about Audrey because if she makes state this year, that's four years in a row," Burk said. "And that demonstrates all the work ethic and commitment and dedication over a four year period and what teenager can say that they dedicated themselves to something at a really high level for four years. She's probably 18 so that's almost a quarter of her life that she's dedicated to this, but I think that bodes well for her future and her prospects at state."
Update: Audrey Livingston got first chair at the Area auditions and will be advancing to State.
Karina Navarro