Band Secures Second at State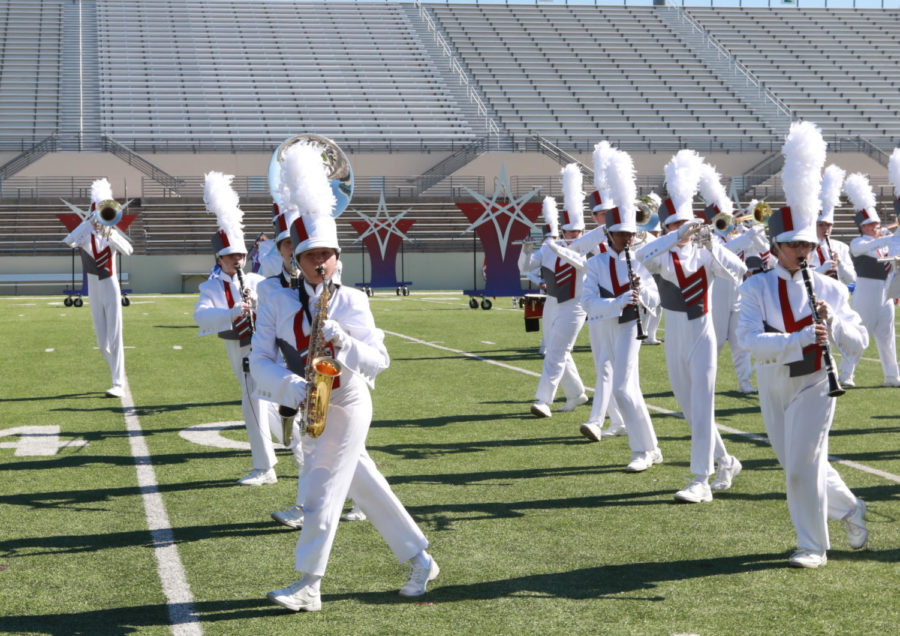 One, two, three, four, dit, dit, dit. Voices count in tandem as the performance starts and three months of tireless work comes to fruition.
After advancing to the State Marching Competition, the band took second place in San Antonio, Texas on Nov. 7, 2018.
"There was a lot of times where the whole band was doing things wonderfully and where things went by in slow motion," sophomore clarinet player Katy Atkins said. "You could really connect to the audience at that point, latch on to them and feel what they were feeling. After the performance when we were all trying to console each other and cheer each other up. Even if we had done perfectly, everyone would've felt like they didn't try their best. There were a lot of points where I felt like we were moving as a unit and it was amazing."
The day of state started with a five in the morning wake up call and an hour-long rehearsal before the band arrived at the Alamodome, where the state competition is held.
"I was feeling very nervous to be performing at the Alamodome," freshman clarinet player Zach Tait said. "As the day went on, I got more excited about being there and in the end, I was really happy to get it over with."
Members of the band can be known to harshly judge and critique their own performances, particularly after the first run of the day.
"The atmosphere [after the preliminary performance] was really thick, a knife couldn't cut through it." Atkins said. "You could feel the fear and the disappointment after results. It was really cold, walking in. Not necessarily the temperature, but everyone was very cold to each other because they were analyzing everything they had done and how that had affected the show."
Despite their initial feelings, the band progressed to finals and earned the chance to perform again.
"For prelims, I wasn't too nervous," senior band student Claire Burkett said. "But with finals, it's the last straw. This is the last thing you have to give to the audience, the judges, everybody who is watching and to work as a team for that last push. It's crucial."
An intense amount of pressure is on the students as months of work is riding on eight short minutes.
"The last time I was here I felt like there was a big emphasis on getting first place," Burkett said. "We had to get first, there was no other option so I felt a lot worse about it afterward. But this time around I was a lot more confident, I knew what to expect. Placement didn't matter as much because I had enjoyed this year so much more than any other and I think it shows in our performance the hard work that has been put in over the past few months."
In the end, the band placed second overall, bringing home the silver medal for the second year in a row.
"I'm going to hang this [medal] up with pride and a picture with it and I'm going to remember every single face," Director of Bands Jason Bird said. "When they announced fourth place and we knew we had medalled, everyone had a smile on there face. They could have said third place and we would have been happy. I remember when they announced sixth place at area [marching competition], we went wild. I saw kids and even parents crying. It's also cool knowing the placement and coming down because directors find out just before they are announced and we get to come down and watch and see you guys [the band] react. That's a real rewarding experience for me."
Emotions were high after results were announced, even the directors felt the moment.
"I'll never forget the looks on faces and putting medals on students and watching everyone leave with their medal on," Bird said. "I wanted to give them to [the students] right then and there because that was an exciting moment. So next thing you know, there's a line down the 25-yard line of everyone getting their medals. Seeing some students who had struggled throughout the year and these students who worked really really hard to get better and better and better so seeing them come up and giving them a medal was the most rewarding thing, knowing they had worked so hard."
The band put an incredible amount of work into their show and have made countless memories through the season.
"Your opinions of the show don't matter," Bird said. "Your pride and appreciation of the show matter. I can't wait to see what happens next year."
About the Writers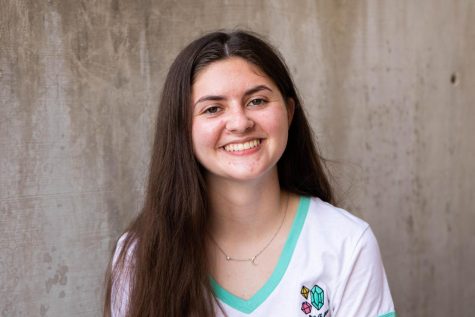 Trinity Flaten, Director of Print and Podcast
Trinity Flaten is the Director of Print and Podcast for The Talon News. Trinity also competes in UIL Journalism events and is a state qualifier in editorial...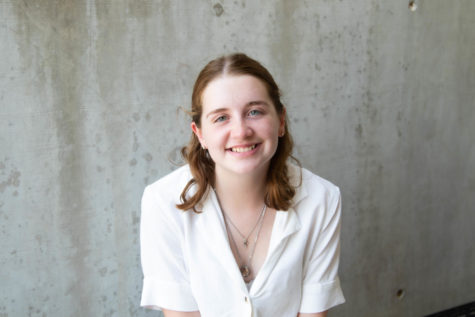 Sarah Crowder, Director of Web and Digital Content
Sarah Crowder is the Director of Web and Digital Content for the Talon News. She also participates in UIL journalism and is the 4A State Champion in feature...