Student Pursues Modeling Career
Click. Click. Click.
He looks the lens right in the eye, striking poses in rhythm with the camera clicks. Everyone has to wear makeup for photoshoots, and his is done to near perfection. His hair is styled and his clothes are a combination of bright colors and fun textures. He smiles and gazes solemnly off into the distance.
The boy's name is Jon Hopper, and he is a part-time high school student, part-time model. Recently, he was selected to be a part of the Next Top Model race, a popular Instagram modeling contest based off the hit series, America's Next Top Model. The teen has only been modeling a few months, yet has already experienced great success in the modeling world.
"There were 134 applicants, and only 14 of us made it," Hopper said. "We are on the all-star season now, and [director] invited certain people back from certain seasons, and I made it into that."
Hopper puts lots of time and effort into each photoshoot. Aside from the hour he usually spends shooting pictures, Jon also makes some of the clothes he models from scratch. 
"Jon has a good eye for design," Fashion Design teacher Rhonda Hill said. "I think he applies the elements of principles of design well whenever he is making an item. He does a good job matching fabrics and styles together so that it is a quality design."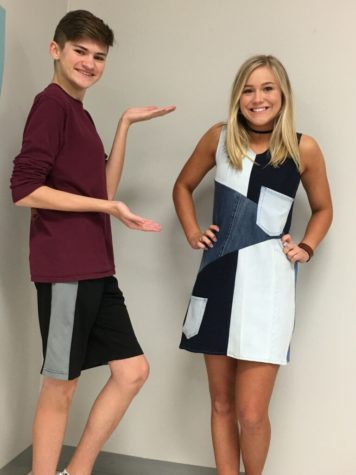 Miranda West, a close friend of Hopper's, has known him since the fourth grade. She says he is sarcastic, funny and witty, but also very passionate and serious about what he does.
"Jon is really cool, and he dabbles with a lot of stuff," West said. "He is really good at fashion, he's really good at drawing, he's just good at a lot of things and there is a lot to him."
Although there is no cash prize for the final winner, they will receive national recognition by judges of the show and get their name mentioned on the instagram account.
"I'm excited and nervous at the same time," Hopper said. "I'm excited because modeling is really fun and I love doing these competitions, but then I'm also nervous because I want to do good."
*To stay updated on Jon's modeling career, follow his Instagram account at jon__hopper.