New Band Director Continues Legacy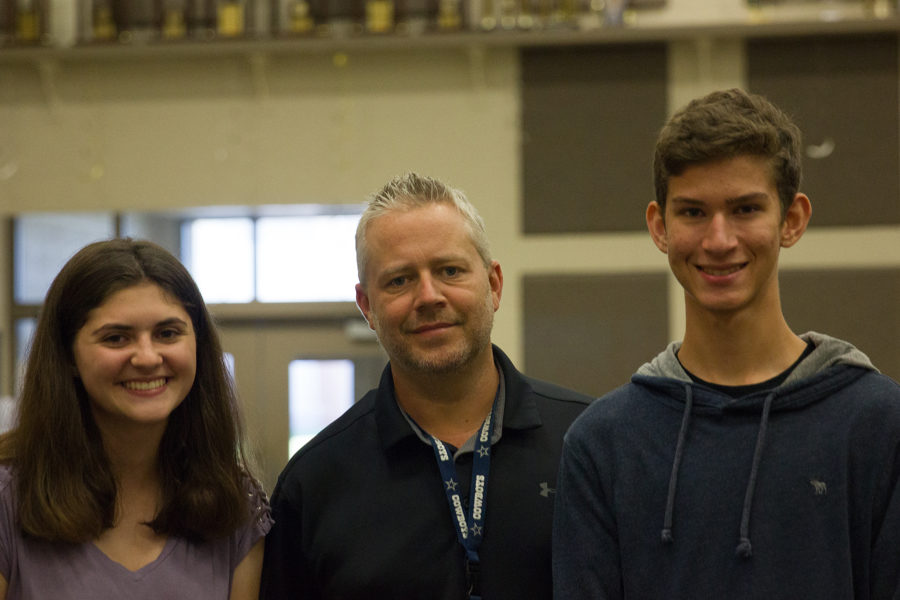 The band program is getting new life with the arrival of Jason Bird as head band director.
"Mr. Bird has brought in an energy and an enthusiasm that is contagious on every level," Assistant Band Director Asa Burk said. "With the parents, the students, the staff that he works with. It has energized rehearsals and the season."
Kathy Johnson, the head band director of over a decade, had a standard for the band program that Bird is working to uphold.
"I want to provide the same vision," Bird said. "It's a really good band program, from the outside looking in. Not only are the students good at things that are already in place, but Johnson had also done so much to provide the structure and so much that you don't get at a lot of places."
Bird is striving to continue Johnson's legacy while adding to it with a state show, Star Struck, in the works.
"Things were in a routine and they worked very successfully," Burk said. "To come in and follow that is a challenge and he has done an amazing job. The students are responding very well; there is a positive vibe"
Bird and the rest of the staff have big plans to remain successful and continue to improve the program and the marching show, both in the short term and long term.
"My short-term vision is that we would build better relationships with each other, students to students, students to staff, staff to staff." Bird said. "Other than being in a group that performs together, we want to understand what we're doing together. Long-term wise, I want to provide a structure that will allow us to grow. I think that we should start to look at ourselves as a contender on a national stage and not just a statewide 4A stage."
Even this early in the season, the staff and Bird are melding and working well together to make changes for the better.
"Between the two of us, we've been able to see something that will cause a problem down the road and we have fixed it before we ever have to deal with the problem," Percussion Director Michael Lemish said. "So that's been great to work with."
The staff is also focusing on not putting as much emphasis on win-or-lose and more so on creating a quality show and doing the best that they can possibly do.
"All we can do is prepare to the best of our ability and put the absolute best product that we can out on the field," Lemish said.
Students are being impacted positively by the change in staff and are working hard to ensure a productive season.
"I feel like the students are responding really well," Lemish said. "They want to do well because they want the product to be good, but also want to make a good impression on him."
With the band being known for its many achievements, Bird believes that the students need to know that nothing is given to them, so they created this year's mission statement: "Earn Our Legacy."
"I feel that I can come in and keep building up that legacy that's already been established and  bring in some new ideas." Bird said. "I think students and staff alike should look at all we've done and see what we're deficient in, where are we lacking, and grow those areas."
The move to Argyle was a very unexpected change for Bird and his family, but he believes that it was the right decision and that the band has a future full of potential.
"Sometimes an opportunity comes up and you have to decide real quick; it could even be a life-changing opportunity. You either go for it and don't look back or you don't seize the opportunity," Bird said. "My wife and I chose that we were going to take the opportunity and apply for the position, and it was all really sudden. I don't regret it at all. I'm not going to regret it."