The Golden Egg
Hang on for a minute...we're trying to find some more stories you might like.
In the month of May, an exciting new addition was made to the the short list of eateries in the Argyle area. The Golden Egg replaced Savory Bistro, located in Bartonville Town Center. Biko Begaj, the owner, formerly owned the Egg House Cafe in Denton, but later sold it to open the new Golden Egg in Bartonville.  The quaint cafe serves breakfast and lunch and is open daily from 6:30am to 2:30pm.
When my dining companion and I first entered, we were immediately greeted and placed in a booth near the back of the restaurant. The white doily coasters and comfy seats offered a cozy feel to the restaurant. The menu, almost overwhelmingly, includes dozens of breakfast and lunch choices that are both served all day.
From Nutella crepes to burgers, the new cafe undoubtedly offers something for everyone. The service was slightly chaotic, but our waters arrived quickly. After looking through the vast list of options on the menu, I decided on chocolate chip pancakes priced at $7.99 and a cup of fruit for $3.99. My dining companion ordered the Venetian chicken panini, priced at $9.25 that came with a side Caesar salad. Although the staff was very polite and prompt, they lacked knowledge in how to use the iPads to place our orders.
Our meal arrived in a very timely manner. The presentation was overall great, except that I was surprised to see the chocolate chips were sprinkled on top of the pancakes instead of being mixed into the batter. Despite the difference, I was impressed when I took my first bite of the pancakes. The pancakes were light and fluffy and very tasty as well as the fruit. On the other hand, my dining companion's chicken panini was slightly under par. We both agreed that the sandwich was adequate, but was not outstanding. The same can be said for the salad. After we finished, our waitress quickly cleared our table and brought our bill.
Overall, the experience was satisfactory. I would definitely attend the restaurant again for breakfast. Although the lunch portion of our experience was substandard, I would recommend The Golden Egg for a moderately priced breakfast.  
About the Writer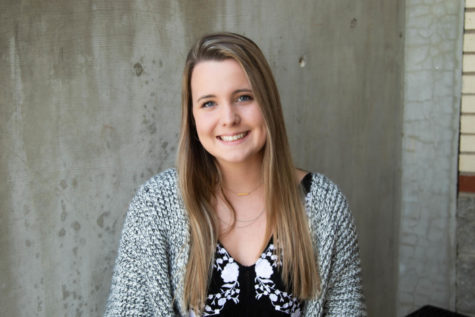 Campbell Wilmot, Broadcast Director
Campbell Wilmot is the Director of Broadcast and the Co-Editor of The Talon News for the 2019-2020 school year. She enjoys videography and filmmaking...