Awards Ceremony Celebrates Accomplishments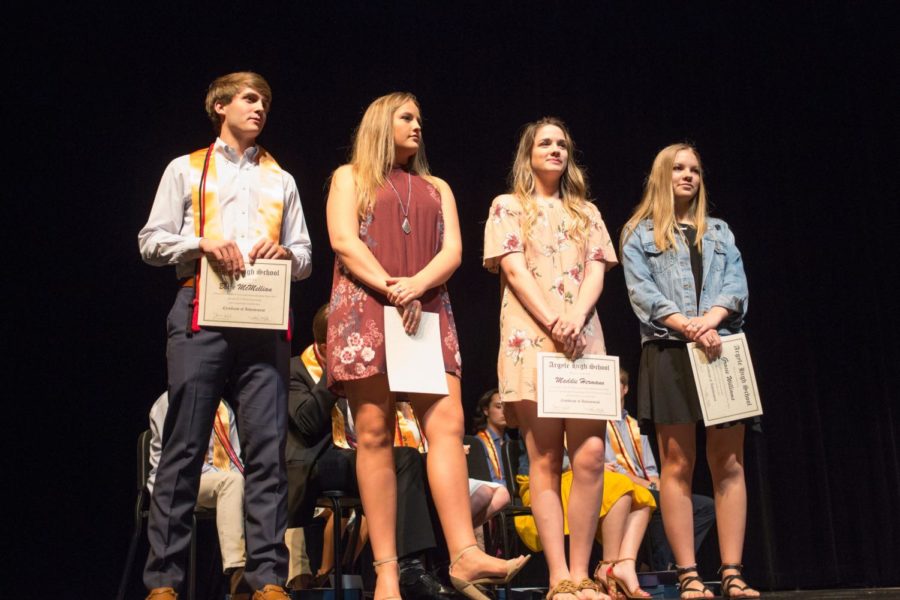 On Tuesday, August 15, Argyle High School hosted its annual awards ceremony to recognize the students who excelled in the classroom and represented the school well throughout the 2017-2018 school year. Students were honored for being a part of a UIL team, earning a class award, and graduating in the top ten percent of their grade. Scholarships were also awarded to many seniors from a variety of sponsors.
CLASS OF 2018 TOP 10:
Valedictorian: Andrew Hennes
Salutatorian: Miranda Downe
Blaze McMellian
Natalie Brown
Christopher Piel
Benjamin Collins
Bailey Carl
Koy Randall
Elizabeth Dagg
Maximillian Mirelez
CLASS OF 2018 TOP 10%:
Shivani Gandhi
Addison Cale Nanny
Nicholas Mohar
Gabriella Cate
Jennifer Knuppel
Wilson Peltier
Jane Coghlan
Scott Dunham
Matthew Shubert
UIL SCHOLAR AWARD:
Elizabeth Dagg
Maximillian Mirelez
Jennifer Knuppel
Wilson Peltier
Jane Coghlan
Matthew Shubert
ARMED FORCES:
Justin Davis (Air Force)
Spencer Strachen (Air Force)
Joshua Traudt (Air Force)
Jeb Susby (Marines)
James Morawski (National Guard)
UNICEF Scholarship:
Daniel Anez
Mira Lillard
CoServe TREWA Scholarship:
Gracie Martin
Daughters of American Revolution Scholarship:
Brandon Woolums
PEO Star Scholarship:
Miranda Downe
TMSCA Scholarship:
Nicholas Mohar
God and Country Award:
Addison Cale Nanny
Elizabeth Dagg
BOYS STATE AWARD:
Dylan Blackwell
Benjamin Collins
Ford Dreams Scholarship:
Elizabeth Dagg
Rudy Menn Scholarship:
Payton Marley
Andrew Hennes
CoServe Scholarship:
Noah Hill
Athletic Booster Club Scholarship:
Benjamin Collins
Blaze McMellian
Chase Book
Kaden Roberts
Madison Peltier
Noah Hill
Sophie Betzhold
Wilson Peltier
GameGuard Scholarship:
Baylee Jones
Open Door Scholarship:
Kaley Allen
Kathryn Morgan
ATPE Scholarship:
Collin Lyon
Payton Marley
Addison Cale Nanny
Tobias Smith
Alex Betzhold Memorial Scholarship:
Blaze McMellian
Addison Cale Nanny
Danielle Davis
Natalie Brown
Michael Rigsby
Tucker Watson
ENGLISH AWARDS:
ELA 1- David Martin (Hadley), Madison Stafford (Sutton), Slate McMellian (Smith)
PAP ELA 1- Zoey Lundy (Hadley), Trenton Goodpaster (Sutton)
ELA 2- Kamryn Doggett (Lyon), Clayton Arnett (Dobson)
PAP ELA 2- Doreen Goyette
ELA 3- Catherine Tomaszewski (Lyon), TJ Arco (Westmoreland)
DC/AP ELA 3- Faith Stapleton
ELA 4- Toby Smith
DC/AP ELA 4- Miranda Downe
Yearbook 1- Andrew Fritz
Yearbook 2- Morgan White
Yearbook 3- Jennie Knuppel
Journalism 1- Ashlynn Roberts
Advanced Newspaper Production 1- Campbell Wilmot
Advanced Newspaper Production 2- Connor Repp
Advanced Newspaper Production 3 ($500 Scholars)- Miranda Downe and Christopher Piel
Audio Visual Production (The Talon News)- Lauren Landrum
Audio Visual Production (Documentary Film)- Lauren Landrum
Audio Visual Production (Fiction Film)- Carly Haynes
Audio Visual Production (Animation Film)- Miranda West
Student Leadership- Sarahbeth Meraz
CATE AWARDS:
Accounting 1- Gracie Williams
Accounting 2- Sarah Hand
AP Computer Science- Kunal Gahlawat and Shivani Gandhi
Banking and Finance- Jack Crawford
BIM 1- Probhav Joshi
BIM 2- Dakota Gantz
Business Management- Brian Shelton
Computer Program- Neeha Alam
DIM- Billy Mykel
Fashion Design- Heather Cleveland
Interior Design- Paige Pakebusch
Interpersonal Studies- Jaylen Reed
Money Matters- Sarah Dallas
PBMF- Scott Gay
SOCIAL STUDIES AWARDS:
Sociology- Jackson Kirkpatrick
World Geography- Katelynn Ray
PAP World Geography- Lauren Allen
AP Human Geography- Isabelle Gilbert and Sarah Crowder
World History- Aidan Monticino
AP World History- Tatum Earp
US History- Tatum Gregston
AP/DC US History- Jacob Morgan
Government- Ashlyn Bush
AP/DC Government- Christopher Piel
Economics- Campbell Coty
AP/DC Macroeconomics- Blaze McMellian
AP/DC Microeconomics- Bailey Carl
Psychology- Cameron Shirley
SCIENCE AWARDS:
Biology- Austin Rusk
PAP Biology- Joe Walsh
AP Biology- Andrew Hennes
Chemistry- Clayton Arnett
PAP Chemistry- Sonali Gandhi
AP Chemistry- Timothy Davis
DC Chemistry- Bailey Carl
IPC- Colby Raasch
Physics- Joshua Tradt
PAP Physics- Jacob Morgan
AP Physics- Matthew Darnell
Anatomy and Phys- Jordan Coyle
Environmental Science- Alex Miguel
Health Science 1- Grace Laws
Health Science 2- Grace Dison
Principles of Health- Katherine Atkins
LOTE AWARDS:
ASL 1- Jessica Johnson
French 1- Michael Filoso
French 2- Lindsey Kennedy
PAP French 2- Bryan Mazariegos
PAP French 3- Rosalyn Chapa
AP French 4- Kian Nawaby
Spanish 1- Cohen Robbins
Spanish 2- Mattie Kelton
PAP Spanish 2- Peyton Deffenbaugh
Spanish 3- Andrew Kennedy
PAP Spanish 3- Colin Crawford
AP Spanish 4-5- Lois Robertson
ESL- Alberto Barraza
MATH AWARDS:
Algebra 1- Kat Burns
PAP Algebra 1- Ariana Sadler
Geometry- Prabhav Joshi
PAP Geometry- Amanda Cheatham
Algebra 2- Ainsley Cindric
PAP Algebra 2- Sonali Gandhi
AQR- Leslie Lively
Pre-Calculus- Abby Miller
PAP Pre-Calculus- Jack Young
AP Calculus- Matthew Darnell
D/C College Algebra- Hannah Gladys
D/C Stats- Gracie Arthur
Math Models- Kylee Starnes
FINE ARTS AWARDS:
Choir 1- Bella Zindel
Choir 2- Madi Mills
Art 1- Catherine Tomaszewski
Drawing 2- Aidan Monticino
Drawing 3- Elizabeth Martin
Drawing 4- Whitney VanPatten
Painting 2- Paige Pakebusch
Painting 3- Riley Barnett
Printmaking 2- Skye Lenamon
Printmaking 3- Isabella Piccolo
AP Studio 2D Design- Jordan Fabian
Dance- Sara Garcia
Theater 1- Drew Taunton
Tech Theatre- Hunter Jones
Theatre Production 1- Lauren Van Zee
Theatre Production 2- Brandon Woolums
Theatre Production 3- Parker Dial
Theatre Production 4- Toby Smith
Musical Theater- Colby Raasch
OUTDOOR ED:
Rachel Deason
About the Writer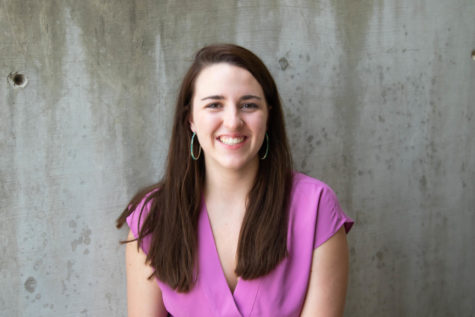 Ashlynn Roberts, News & Social Media Editor
Ashlynn Roberts is the News Editor and Social Media Editor for The Talon News. Ashlynn has competed in UIL Feature, News and Editorial writing and has...