Eagles Golf Wins State Preview Tournament
Hang on for a minute...we're trying to find some more stories you might like.
On Feb. 2-3, the Eagles Golf Team competed in the State Preview Golf Tournament at Horseshoe Bay Resort, where Senior Luke Griggs and Junior Logan Diomede both placed in the top two. Griggs ended with a score of 152, earning him a second place finish for the second straight year. Logan Diomede shot a two-day score of 151 to win the tournament. This year marks the second consecutive year Diomede has won at Horseshoe Bay, and the fourth straight year Argyle has placed first at the tournament.
"This course requires more stratagy off the tee," Diomede said. "The greens were smaller than other courses, so I had to focus on what side of the green I wanted to be on."
Although the Eagles continued their impressive winning streak, Luke Griggs said they still have a lot to work on before the state tournament.
"I think we did pretty good for it being February and coming out of off-season," Griggs said. "And I am happy with how I played, and I feel like I could have done better. It was definitely harder than other courses I've golfed at."
Since Diomede knew what the Horseshoe Bay course was like, he understood what it would take to win. One of those skills includes practicing getting the ball on the green.
"I worked on my short game," Diomede said. "I also worked on my putting from 10 yards or shorter, so I can know if I get in that range I can finish to help myself and my teammates."
For Griggs, he tries to play as much as possible by taking weekly lessons so he is able to compete at a high level every tournament.
"Usually I try to get as much playtime as I can at least a week before a tournament, so I can be prepared," Griggs said.
Having a reliable putt game is always a great tool to have, and Logan Diomede is the most comfortable in his putting.
"I feel like if I am 30 yards and in I can make a high percentage of them," Diomede said.
Because of his impressive putting skills, Diomede has captured some great scores in his young career. One accomplishment he holds is a 66, which is five under par, at his home golf course, the Denton Country Club. Luke Griggs is close behind, with a 67 of his own that he also earned at Denton Country Club.
Aside from their natural ability and experience, both golfers use special clubs to help them perform at their best. Diomede relies on his Titleist driver. Luke is very comfortable with his Titleist three iron, because of the club's low angle and the fact that it is very dependable.
"I feel like that no matter how I am doing I can always put my driver in play," Diomede said. "I feel like I can always make my driver work and make it stay in the fairway for me."
Diomede and Griggs have had role models that have helped them reach the level they are at today. At just 12 years old, Luke Griggs' dad, who used to play often and was a pretty good player, helped him his golfing skills. While Griggs relied on his dad as a young teen, he is now heavily influenced by Argyle golf coach Brady Bell.
Towards the end of his eighth grade year, Diomede started practicing with the golf team at the high school. Once he started playing, his love for golf was sparked, and he began looking up to famous golfers. One of his favorite golfers is Dallas' own Jordan Spieth, a pro golfer in the Professional Golf Association (PGA). Logan admires Spieth because he has related to him on and off the course, and he likes his character not only as a golfer, but a person.
Griggs will be attending McLennan Community College next fall in Waco, Texas. He chose McLennan because of its location and high caliber golf team.
"I got good at golf late," Griggs said. "I figured if I were to go to a Division II school, then after two years I can go to a Division I school."
Diomede is not sure yet where he would like to go play in college, but knows that he would like to go to a lower ranked Division I school.
"I believe that I can play D-I golf," Diomede said. "I believe that I can play, and I want to go to a school that I would be able to play as a freshman. I really don't care if I go to a big D-I school, I just want to go to a school where I can play and get better."

About the Writer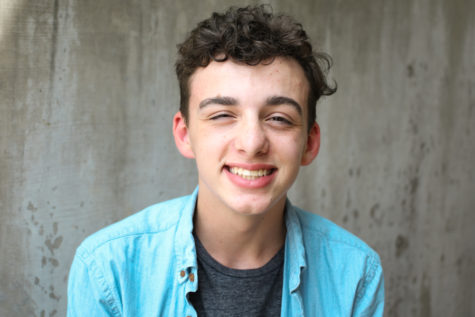 Max Van Drunen, Sports Editor
Max Van Drunen is the Sports Editor and a reporter for The Talon News. Max has reported from many UIL State events and press conferences around Texas. ...