Haley Emerson Has a Chance at Major Scholarship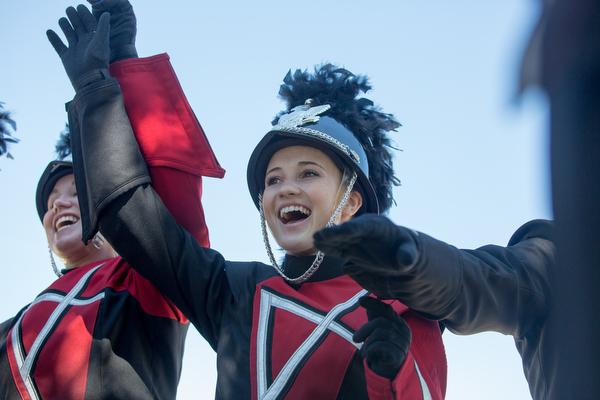 She takes a deep breath and hesitantly opens the door to the french horn audition room. With one last deep breath, she plays her solo with near perfect accuracy.
"Trying to get a hold off my nerves before my audition was the hardest part of the audition process," junior Haley Emerson said.  
French horn player Haley Emerson is one of the talented musicians that has a chance for a scholarship for being a member of the ATSSB All-State band three. The scholarship is worth 500 dollars and is only given to a handful of high schoolers across the state of Texas. Emerson is close to being a part of this handful and only has to get through the auditions one more time before she can be awarded the scholarship.
The process to become an All-State band member is a long journey that requires hard work and hours of practice. The first step in making it to All-State is to make it into the region band, which will qualify a musician for an audition for Area Band if they make a high enough chair. After region auditions, students continue to the Area auditions which decide on if they will go on to All-State. Finally, if musicians make a certain chair or higher they will go to the auditions for All-State which will determine what chair they will be in All-State. Although the road to All-State is lengthy, it is worth it for the musicians.
Emerson has managed to breeze by this course to All-State two times and plans to do it a third. 
"[Making All-State] is something you want to do to impress your directors, colleges, and yourself," Emerson said.
Emerson made All-State her freshman year and this year. It is extremely impressive for a freshman to make the All-State band.
"It is more impressive for colleges if you make it your freshman year or sophomore year versus making it your junior and senior year," Emerson said.
Even though Emerson did very well in auditions, it still took a great deal of practice, about seven hours a week, for her to perfect her audition music.
"It takes hours and hours of practice pretty much every night to prepare for the auditions," Emerson said.
Emerson has different strategies that helped her prepare for the auditions, for region and area; one of them is repetition.
"I take recordings of myself playing," Emerson said. "I'll listen to [the recordings] over again and find small details I need to fix and mark it on my music and start again."
 Emerson will also get help from her directors when she is preparing for the auditions.
"I play for the directors as much as possible, because they know what they are doing and some are even judges for region auditions," Emerson said.
Along with the stress of doing wonderful in the auditions for colleges, directors, and scholarships, Emerson found joy out of making All-State.
"The best part about making All-State this year was showing everyone that I am still good enough to make it," Emerson said.