Mourning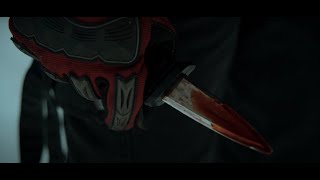 After the horrific death of a close friend, a group of teenagers goes into the woods to mourn their lost one. They begin to tell old stories and share a few laughs, but the group begins to fall apart when the sun sets. One by one, each member goes missing as they go deeper into the woods. At first, it seems like just another one of the fun pranks they play on each other, but the morning will come and reveal the true horrors underneath trees. How many more people will have to be mourned?
Director: Rin Langford
Videographer: Rin Langford
Video/Sound Editing: Rin Langford
Cast: James Ragan – James/Killer
Caroline Deffenbaugh – Caroline
Ava Leigh Sankey – Leigh + Stunt Double
Aidan Coito – Aidan
Alexa Langford – Alexa + Stunt Double Miracle
Reese – Miracle
UIL Film/The Talon News Disclaimer: This video was produced and created by the UIL Film Team, a part of The Talon News student media productions and The Talon Film Productions, and operates as part of Argyle High School's student media group.