What's Happening with U.S. 377?
U.S. Highway 377 has been slowly moving towards breaking ground in Argyle throughout the last five years. 377 is a rural highway and is a major artery for the region connecting the two major cities of Denton and Fort Worth together. Sections of the highway have been slowly expanded from their original two lanes as urban sprawl creeps outwards. 
"A lot of factors go into upgrading roads, including public need, population growth, and state funding. Funding and resources play a major role because different projects can come from different sources of funding," Kendall Sloan, The Texas Department of Transportation (TxDOT) district spokesperson, said.
When TxDOT plans roadways they have manuals that are appropriate for the design that they follow. TxDOT has been planning on expanding U.S. 377 since 2014, but progress has been slowly moving forward with the planned upgrades. 
"Schematics are already approved," Sloan said, "A public hearing took place in Sept. 2018 for this project. The project moved forward with the approved schematic design that was shared at that meeting."
This will turn 377 from the original rural two-lane to a four-lane highway with a raised median dividing the two lanes. The median will also consist of turn lanes at intersections along the road. Though the highway will only be expanded from Crawford Road south to FM 1171.
"We are in the final design stages of this project," Sloan said. "The Right-Of-Way phase is complete and utility relocations are underway to prepare the project to be ready to let for construction."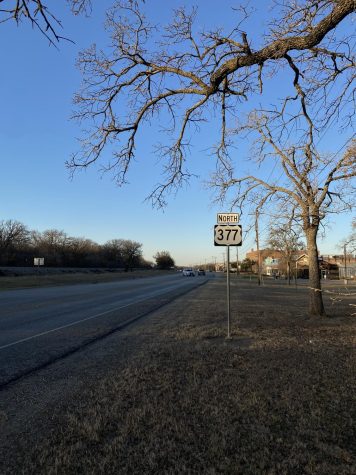 All of the land for the right of way for Highway 377 was acquired on March 30, 2021. Currently, utility companies are in the process of relocating their infrastructure to make way for the expansion of U.S. 377.
"All projects take several years to complete, from the planning, design, and construction phases." Sloan said "Each phase takes time. This project is in the design phase and is not fully funded, meaning there is no specific set date to move forward. The 'ready to let date' is the goal for being ready to go into construction." 
The let date is when contractors can bid on the project, and this will allow construction to start once the bidding has ended. It is planned to start by Dec. 2023. The expansion of U.S. 377 still faces hurdles like funding.
"Roadways are continuing to become more expensive just like everything else with rising costs," Sloan said, "We continue to update our estimates for projects to secure funding," Sloan said.
The project only has $10,300,000 in funding, of the need $96,167,494. This will decide when construction can officially start on the highway, which is currently planned to start in 2027.
"In general, when a roadway is divided and widened, it increases capacity and reduces traffic while improving mobility and safety," Sloan said.