UNICEF Leads Annual Thanksgiving Food Drive
Every year, UNICEF helps to gather food and supplies to feed those in need for the holiday. This year, students will work to support 55 to 60 local families, and collections are due to the front office no later than Nov. 14.
"I'm really happy with people's response so far, across the board," UNICEF vice-president Srimaan Kolanakuduru said.  "We are reaching out to the classrooms, and I'm happy that we are in a spot where our community can be involved, and that's pretty awesome."
UNICEF is asking for $30 gift card to Kroger or Wal-Mart as well as canned vegetables, stuffing, desert mixes, as well as other purchasable items.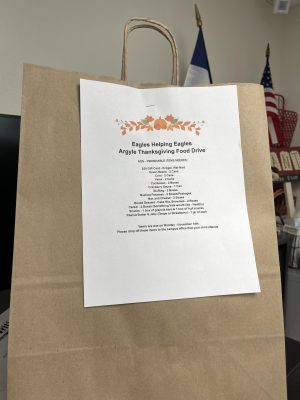 "Food drives are a great way to get students involved in community service, and it helps them become more compassionate citizens by helping those in need," teacher Kayla Webster said. "Food drives offer students opportunities to develop skills in relationship building, leadership, empathy, and social awareness."
Rising costs of food, inflation and unemployment have left local families in need of extra support in terms of food and monetary assistance this season, and UNICEF hopes to help.
"It's important for students to get out of their comfort zone and realize there are those around them that need help," Short said. "Thinking about others for a change, forgetting about material things and things that really don't matter, and thinking about community is important."
UNICEF members delivered bags to every classroom for the Thanksgiving Food Drive last week and will continue to collect money and supplies to fill the bags. Another set of volunteers will equally distribute the money, gift cards and food items to families prior to the holiday.
"A few years ago, I was able to help with packing the bags and delivering them out to cars as people came to pick up," Short said. " There were lots of tears, myself included, and the overwhelming feeling of gratitude and thanks was something I will never forget."
Kolanakudura has helped out with the food drive in the past, but this is his first year to be part of leading and running the food drive.
"By making this move into actually donating and helping out, [people] have a much bigger impact than they think," he said. "It's just really great, and the feeling of giving is just awesome.  It's just amazing to get that warm feeling you can only get from giving to others."