National Signing Day Features 'Next Level' Commits
Brenna Walters and Ashley Henderson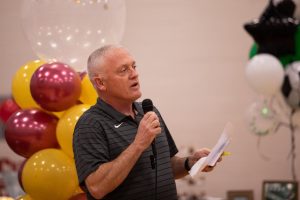 National Signing Day has become a tradition and highlight for the Eagles, and this year 13 athletes will sign with their respective colleges and universities.
"It's just an honor to be among those that get to play at the next level," girls athletic coordinator and head basketball coach Chance Westmoreland said. "It's very competitive and fun and rewarding, and to be able to represent a school is just huge and [players] are one of the very few who get that opportunity."
Lady Eagles basketball team signed four players:  Madi Lumsden (Angelo State University), Katelyn Jones (Siena College, New York), Ashlin Crabtree (Vanguard University of Southern California), and Savannah Bennett (Hardin-Simmons University).
"Signing to be able to play at the next level is a dream coming to life," Madi Lumsden said. "It proves to myself that all of my hard work, extra time, and effort that I have put into the sport has paid off. I'm grateful to be able to play this sport for another four years."
This year, not only was it volleyball first year competing at the 5A level, but also with a new coach who will send Olivia Sanchez off to play for The University of Louisiana at Monroe.
"I think it's super special this year, and having Olivia be my first commit, I'm just super proud of her," head coach Katelyn Johnson said. "She has worked really hard to be able to accomplish.
Only 1.2% of volleyball players get to go on to play at the collegiate level, and according to Johnson, Sanchez has put in the work to get to that next level.
"It almost doesn't feel real," Sanchez said. "Today hasn't really clicked.  It just seems surreal that I'm about to go play in college, but I'm so excited."
The Lady Eagles soccer team ended with an  impressive run through the region finals in the spring, and they will feature 4 signees.  Head coach Marc Koke has known these players since they started middle school, and says it is a "very special" senior class: Sophie Placke (University of Louisiana at Lafayette), Kennedi Banar (Delta State University Mississippi), Ella Atkins (Oklahoma Christian), and Avery McNatt (Hardin-Simmons). 
"All four of these girls have worked very hard to get where they are today," Koke said.  "They are all extremely talented, unselfish, and are some of the best leaders and teammates we have in the program, and most important, they are outstanding young women."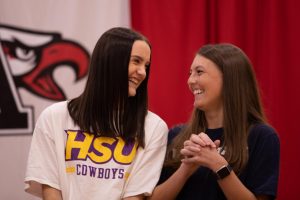 Oklahoma Christian commit Ella Atkins says that being able to play at the next level is one of her biggest accomplishments.
"Signing means a lot to me, because it shows that all of the time and work I've put into soccer is paying off," she said. "I'm so excited to go play at the next level."
Delta State commit Kennedi Banar will head to Cleveland, Mississippi to continue her soccer career.
 "This is something that I have been working towards since I was a little kid," she said. "So for it to finally be happening is really cool. It feels like a weight has been lifted off my shoulders, and I can't wait to play at the next level."
 Girls golf has Madison Wert signing with Midwestern State, and Paige Arthur will sign with Hardin-Simmons for track and field.
 "Madison has been an integral part of our back-to-back state championships," head golf coach Nathan Moses said. "Her positive attitude and work ethic have helped provide the opportunity to compete at the collegiate level. Madison is an example for younger golfers playing with the joy we hope to display in our program."
 Despite the lack of an official UIL Lacrosse team for Argyle, this year features Argyle's first D-1 Lacrosse player, Abby Baker, who will sign with Penn State. Baker is "extremely thankful" for the support of her coaches and family who helped make it possible.
It's a surreal feeling to be able to continue to play lacrosse," Baker said. "It doesn't feel real at some points and I honestly kind of forget. I think that it's important to honor athletes going to play at the next level because they have had to sacrifice more than most people know to get to where they are. It's also super difficult and competitive for everyone at every level from Division 1 to Division 3 to get selected to play in college."
Softball's Cadence Schrader will sign with Clark University in Worcester, Maryland. Schrader has played for Argyle for 4 years and had a "willingness to share skills with younger players."
 "Players sometimes don't understand that playing on scholarship is like another job," head softball coach Kevin Cook said. "[A player's] first job is school and the other is the athletics part.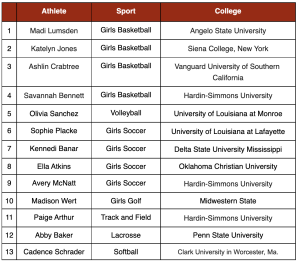 She has a level head and I think she will do fine with both."
 Schrader's main job is pitching, but she also plays infield and has been part of winning seasons for district and playoffs.
 "I'm really looking forward to the opportunity it gives me to work and be closer with people with things that I enjoy doing, for example softball," she said. "And, I know that my school's higher academics, and it gives me the opportunity to be around people aiming for what I'm aiming for, and I look forward to that."
 Westmoreland believes that it's important to honor the achievements of these athletes and continue the tradition through recognition and celebrations.
 "We honor kids because the NCAA has national signing days to honor these kids because it is a really big thing," he said. "It's exciting for these kids and their teammates and their families. I think it's a great tradition, and this year we have one of the biggest signing days we have ever had as far as girls athletics."