FBI Indicts Argyle Fire Chief
Note: This is a developing story, and we will continue to provide updates.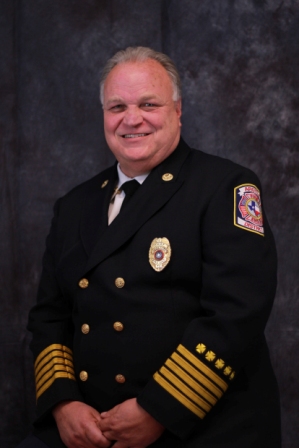 Argyle Fire Chief Troy "Mac" Hohenberger was indicted today for multiple federal violations including spending $490,000 of district funds to pay personal credit card bills. FBI agents arrested Hohenberger on Thursday afternoon at DFW Airport for allegedly stealing money from the department's pension fund. 
According to a press release from the U.S. Attorney's Office, the indictment also alleges that Hohenberger placed district funds on a personal credit card, which included charges for cash advances at casinos, payments related to a family member's business in Hawaii, and other personal uses. If convicted, Hohenberger will face up to ten years in prison.
Both the Argyle Fire Department and Argyle Professional Firefighters Association (AFPA) issued statements confirming Hohenberger's arrest, who has been an employee of the district since 1991. 
"We are monitoring [yesterday's] developments with federal investigators and local law enforcement officials," said the AFPA press release, "and we look forward to finding answers to the troubling questions raised by this matter. Make no mistake, public servants have been personally harmed by these actions. And we hope for a swift and fair investigation, and carriage of justice."
In 2021, former firefighter, Harold "Trey" Ring, filed a lawsuit claiming payments were missing from his and other firefighters' 401(k) accounts, which were controlled by Hohenberger. Hohenberger claims to have made "catch-up" payments to the accounts by conducting an audit.
"He only admitted to missing two months of payments but the records show for at least two years he had missed over 18 payments," Ring's attorney Eric Roberson said. "We want an independent auditor to be able to protect not only Mr. Ring but every single firefighter in the fire department."
Before filing the lawsuit, Ring claims to have been wrongfully terminated after questioning Hohenberg's actions. Now, Ring and Roberson hope to represent all department firefighters through a class action lawsuit. Hohenberger's arrest can not be directly linked to the lawsuit as it is an FBI investigation.
"We were surprised but not shocked with yesterday's arrest by the FBI and the FBI raid of the fire department," Roberson said. "Mr. Ring feels like he has been vindicated by these items."
The chief resigned from his position weeks before his arrest, but the department stated in a press release that all emergency services will continue to be provided as normal. The case is currently being investigated by the FBI and Department of Labor EBSA.
"The Denton County ESD #1 remains dedicated to ensuring transparency to personnel and the community during this process and will continue to work cooperatively with the FBI while all inquiries are addressed," the release said. "[We] will be supplying additional information when it is available by posting on it on our website: DentonCountyESDI.gov."