Theater Creepin' It Real With Upcoming Haunted House
Fall breezes, pumpkin spice, and sweater weather welcome the annual haunted house. The chilling production is hosted by the theater department and marks the start of the Halloween season for students, families, and even staff. 
The event will be held from October 28-29 at the fine arts hallway and auditorium. Not only do the students set up and perform in the haunting event, but their theater directors also participate. 
"Setting up is a lengthy process because we use the entire fine arts hallway," Theater Director Melissa Carpenter said. "We have to get every classroom set, cleared, prepped and put together. Last year, because of the new building, we had to get it built in 24 hours. We were working every single class period getting things set up." 
The actors who run the haunted house use their talent to "spook" the guests. 
"People don't see all of the hard work that goes on behind the scenes," actor Ian Mckenna said. "We have to stay hydrated to stand there for 4 hours and reset to get every timing right. We have to get into costume and make sure everything is perfect to create the terrifying environment."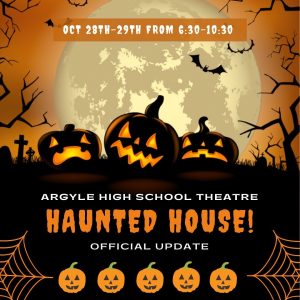 Every year the theme changes, which forces the theater department to work hard in order to acquire various props and costumes. 
"We get our props from years of accumulation and donations," Carpenter said. "At the end of the school year we buy a lot of black plastic tarping and we save that. Students bring old Halloween decorations they're not using anymore as well. It really doesn't take a lot, as log as the set is well thought out."
Sophomore Madelyn Tubb says she loves going to the haunted house with family and friends.
"Knowing that the people scaring you are the same ones you go to school with everyday is so cool," she said. "Maybe it's kind of frightening too."
Not only do the actors and directors work behind the scenes, but advanced tech theater builds the sets and props to enhance the production.
"For tech, we're working on  building the bodies right now," said junior Colt Tisdale. "We're coming up with the themes and figuring out what props we need to build, the lighting, what sound effects we need to use, really just the technical aspects of it."
Carpenter loves to hear the "screaming" and the laughter.
"Haunted house is literally my favorite time of year because you'll hear people walking up saying 'this isn't scary,'" said Carpenter. "Ironically enough, 10 minutes later I hear them screaming and hurdling people to get out. I'm talking varsity football players."