Family, Line of Duty and What Matters Most
Despite having been put into situations where he has seen officers die and children traumatized, it is one thing that motivates the police work of Chief Emmitt Jackson.
Family. 
Having worked in criminal justice for 20 years, Jackson has found a new home and career in Argyle. Transferring after 15 years as an officer from Dallas, Jackson has made it a priority to "keep the peace" while also making time for family.
"I tell every officer that's worked for us that family comes first," Jackson said. "I always try to make sure my wife and my three kids are very involved in the department itself. It's like an extension of one large family."
Service runs deep in Jackson's family. Living with a single mother who worked in CPS, and having grandparents who served in the army, Jackson knew how his career would turn out.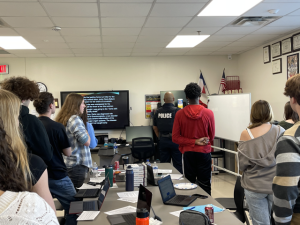 "Originally I wanted to be an attorney," Jackson said. "I've always had a passion for helping people. So I became a police officer.  I figured I would protect people's rights on the front end rather than on the back end."
Jackson's years of service as well as his upbringing have helped him to better understand how to go about his job.
"I understand what it's like to live in a situation where your means and someone else's means don't always line up," Jackson said. "Whenever I go into people's homes, I [try to] understand that I'm diagnosing a person and not a problem."
Jackson has experienced a multitude of different situations as an officer. One experience he remembers fondly involves running into a young girl in the middle of a drug deal.
"We couldn't find the drugs until we looked in a little pink desk," Jackson said. "That desk was in the child's room. It made me understand that people have problems that unfortunately go beyond their sense of parental instincts."
His involvement in situations like this has only furthered Jackson's love for his family and pushes him to do more with them despite the time-consuming job.
"I try to do any activity that gets my family together in the same place at the same time, even just having a conversation," Jackson said. "My world revolves around the little things that my kids do. I just like watching them perform."
Being connected by blood isn't the only family Jackson has. As a member of the police department, Jackson considers his fellow officers family, and witnessing the 7/7/16 Dallas shooting has only strengthened his bonds with them. 
"It is life-changing if you experience just one line of duty death," Jackson said. "But when you witness five good, brave men dying all in one day it changes the way you look at everything. The brotherhood. The shared sacrifice. I haven't found that in another career. You come to the stark realization that those people you hold dear may not make it back home."
No matter what happens in his career, for Chief Jackson, it's family that comes first. Nothing else.
"The one thing I want the most is for my children to say I was a good father," Jackson said. "Everything else is secondary to me."