'All In' For State
Defeating Alvarado 7-0 in the Regional quarterfinals last Thursday, the Lady Eagles soccer team will advance to the Regional tournament this Friday.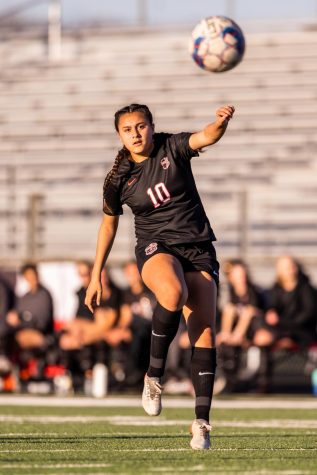 Last year, the Lady Eagles set the record for the longest playoff run in school history, ending their season in the Regional Finals with a 1-0 loss against Midlothian Heritage. This year, their goals remain the same, with hopes of extending their playoff run all the way to the end.
"[Winning the State Championship] was our goal going into the season with our mantra this year being, 'all in,'" girls soccer coach Marc Koke said. "It's still the goal for this year, [to] finish the job and win the State Championship."
This year, new players help improve the team's skill, adding multiple athletes from out of state or other surrounding schools.
"We have probably the best team chemistry we've ever had and probably just have more talent," senior and co-captain Emma Sheehan said. "We all work together."
Along with developing the team's chemistry, a new lineup creates challenges with the group's playing dynamic.
"I think [our greatest struggle] is just connecting with each other on the field," Sheehan said. "In the beginning, it was all more individual work instead of a team, but I think [with] more games being played, we're getting more passing in."
Playing a role in the team's motivation is Argyle's transition into 5A next year.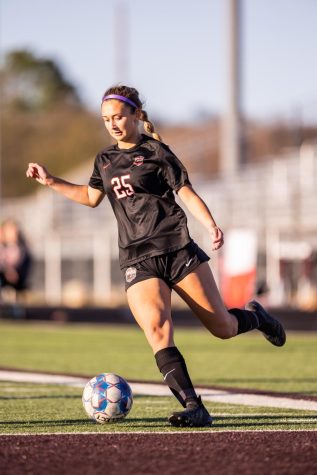 "There's a huge difference in the quality of competition from 4A to 5A," Koke said. "So with this being our last year in 4A and having the most talented team we ever had, if we're going to win a State Championship, it's got to be this year."
After last year, both Argyle and Midlothian Heritage are projected to meet up again in the Regional finals. This time, the Lady eagles plan to come out on top.
"We always remember," Sheehan said. "It's going to become a revenge story. Mentally, we are going to come in stronger." 
The team's new strength is found in their leadership. As Sheehan continues her second year as a co-captain, juniors Ella Atkins and Kennedi Banar spend their first year with the title.
"We are all trying to keep the chemistry good, listen to everyone's opinions, and give new ideas for the team," Banar said.
Aware of the stakes, the Lady Eagles stay focused on the ultimate goal.
"Everybody knows that we're trying to win a State Championship," Atkins said. "If you don't come prepared, we have the chance of going home. So you better come to play."