UIL Wins District Meet
Congratulations to the UIL academic team for a very successful day yesterday winning the academic district championship with a point total of 1057! Over 50 kids will be attending the regional tournament at Texas Tech at the end of April.
Below are the full results from the meet: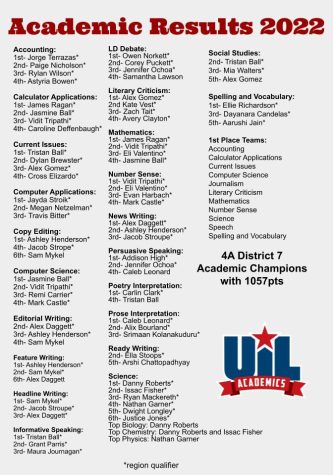 Also congrats to the academic coaches!
Rashidur Rahman- Accounting, Computer Applications, and Computer Science
Russell Perkins and Curtis Williams- Calculator Applications, Number Sense, and Mathematics
Stacy Short and Mike Birnbaum- Journalism (Copy Editing, Editorial Writing, Feature Writing, Headline Writing, and News Writing)
Matthew Woody- Current Issues and Social Studies
Des Good and Kim Kass- Science
Jennifer Hadley and Alexis Kopp- Literary Criticism and Spelling and Vocabulary
Jennifer Fischer- Ready Writing
Melissa Toomer- One-Act Play
Jessica Reynolds- Speech and Debate