'Love Your Neighbor'
No experience. No connections. Straight out of college at twenty-two years old, Will Griswold applied to over one hundred jobs receiving only two interviews. One of those interviews would forever change his career, life, and family forever.
Griswold started Argyle's choir program and has spent six years as choir director. On Feb. 28, he announced that, at the end of the school year, he will be moving with his wife and soon-to-be child to South Mississippi to further his education and career. 
"I'm just really grateful for my time here and for all the people that we've met, all the people that have loved on me and my wife, and all the support that we've received in making this decision," Griswold said. "It's just been really sweet and I just can't say thank you enough."
Starting the choir program, Griswold's goals were to recruit students and gain the community's support. Now, having accomplished those, his new goals are more personal.
"My goals this year were to help the students feel like that their love of music is like something that is personal to them," Griswold said. "I really want them to love music because it's changed their life in some way or because it means something to them."
Already having a love for music, his experience teaching various age groups and diverse groups of students led him to fall in love with education.
"It's just amazing to see students step into their voice and see that confidence grow over time," Griswold said. "[Choir] is all about how we transform the lives of our students and where they go from when they come into the room the first time, and then where they end up when they ultimately graduate from high school and then go on to do amazing things in the world."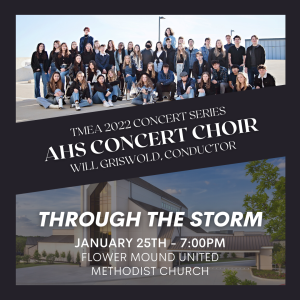 According to current and former students, Griswold's impact goes beyond music.
"He was definitely one of my biggest mentors in life. I learned everything that I could from him," alumnus and former choir and Remedy member, Alex Govea said. "He really poured into us, and everything that I do with music I learned from him and so he has changed my life forever."
Griswold has been seen as a mentor to many, teaching them important life lessons.
"He made me a very hard worker," senior choir and Remedy member Kimmy Giese said. "He taught me to be very determined and to really reach after my goals."
His greatest lesson, the program's motto, is to 'love your neighbor,' which Griswold has said to his students every day since he started working at Argyle.
"If they can take the lessons that they've learned in the choir room, which are to love every single person around them the way that they would want to be loved and a treat people with kindness, and respect one another and to listen to one another if they can take all those goals, they're going to be successful in whatever they pursue regardless [whether] it's music or not," Griswold said.
Students are thankful for his impact on their lives despite their sadness towards his departure from Argyle.
"I want him to stay, but I am happy for him and his wife and his soon-to-be child because some of life's greatest things, they don't ever last," sophomore and choir member T.J. Atkins said.
Cherishing their last year together, Griswold is hopeful for his students' futures.
"This last year has been about how much can we celebrate what we've accomplished over the past six years so that they continue to [celebrate and grow] long after I'm gone," Griswold said. "Ten, twenty years from now this program will be successful because of the groundwork that these kids laid over the past six years."
Grateful for his experiences, Griswold offers advice to Argyle's next choir director.
 "Love what you do and love the students that you get to work with because there are a lot of places where it can be difficult to be a teacher and difficult to love what you do and Argyle is not one of those places," Griswold said. "I know that whoever steps into this program next year is going to be welcomed with open arms. I know that the students are going to be ready to work and ready to make music and ready to make new experiences."