Finding Physics
Teacher Shares her Love of Kids, Science
With a long-ingrained love of physics and a family legacy to uphold, Ashley Allen has implemented herself in the community and culture of Argyle while fulfilling her responsibilities as a teacher of grace and excellence. 
Throughout her six years of teaching at Argyle and 15 years of overall teaching experience, she has acquired resourceful tips and tricks to succeed in the classroom and socially within relationships with her students. 
"What I love most about teaching is the kids and the people I work with," Allen said.
Allen, although a physics teacher now, has changed her career path many times. 
"My whole family is medical, so I always went to school for biology and chemistry," Allen said. 
After finishing school she realized being a doctor was not the career path best fit for her. Allen found herself substitute teaching, where she fell in love with the sciences. 
"I know not everybody wants to become a physicist and do math the rest of their lives but I want them to remember having fun"
She started off by teaching Biology and Chemistry but was drawn by her love of math to teach physics. Alongside her passion for teaching, she has fully embraced the community here at argyle.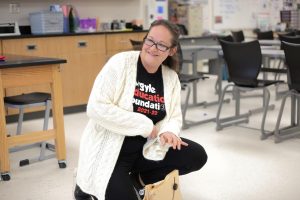 "What makes Argyle different is every event and every sport is all celebrated, the super bright get as much attention and just as many points for UIL as our basketball and football teams," Allen said.
 Her adaptability throughout ever-present COVID-19 struggles gained her admiration from students and administrators alike.
 "Mrs. Allen is very understanding when it comes to her students' well-being," junior Liza Ludwick said. "You can tell she truly cares about what impact she's having on her students. She also uses visuals and makes sure you fully understand the assignment."
Overall, through teaching, she finds her connection with others the most important lesson she's learned.
"You gotta make friends and you gotta laugh with people and get to know them," she said. "You gotta make sure you know what they're going through so you have the ability to relate to them."