Tyler, The Creator Creates Memories With Tour
Two years after the release of "IGOR," in June of 2021, rapper Tyler, The Creator released his sixth studio album "Call Me If You Get Lost." The album has a runtime of just over 50 minutes with 16 new songs for fans to enjoy. Not long after the release of the album, Tyler began performing at different shows and festivals including Lollapalooza in Chicago and the BET awards ceremony. It was announced that a nationwide tour would be held by Tyler, and he would be accompanied by fellow musicians Teezo Touchdown, Vince Staples, and Kali Uchis. On Feb. 16, the tour came to Dallas, TX, at the American Airlines Center, and I had the pleasure of being able to witness the show for myself. 
Teezo Touchdown took the stage first and despite being a newer artist, he put on a crazy show. Playing tracks from "SUCKA" to "I'm Just a Fan," Teezo covered his whole discography in an exciting and refreshing way for the fans in the audience. 
Rapper Vince Staples took the stage next and while his set didn't have much theatrics, he still did not disappoint. Staples rapped nonstop going from song to song from each one of his albums. His set was a different environment than Teezo's, the audience was more involved and even rapped along to his songs such as "Big Fish" and "Norf Norf." Despite all of this, the best part of his set was when I got a high five from him as he walked off the stage.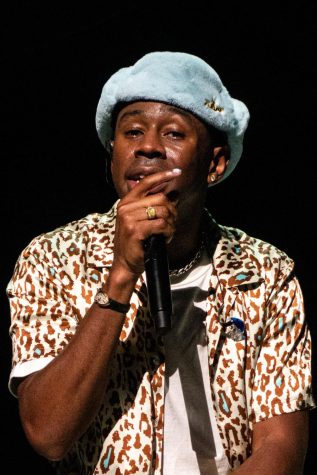 The last opening act was Kali Uchis. She took the stage dawning a bright, red leather outfit accompanied by four backup dancers. Uchis, like the other two acts, made her way through her catalog of hits, singing tracks like "After The Storm" and "telepatía." The audience was enthralled with her set, screaming the lyrics and jumping up and down. Screams got especially loud when Uchis danced across the stage and when she threw her towel into the crowd for the fans.
Finally, after the final opening act, Tyler, The Creator took the stage. Coming out of a Rolls Royce wearing his signature sweater vest and hat, the crowd erupted with cheers. His set began with newer tracks from "Call Me If You Get Lost" and didn't change until he got onto a boat and rode to the secondary stage where he performed some of his older music. The audience never stopped screaming and everyone was jumping up and down during his set. He finally returned to the main stage where he finished out his set with the song "RUNITUP" and a pyrotechnic show for the ages. 
Tyler really knows how to put on a masterpiece of a show, and the opening acts were a perfect preview for what he was going to do. Overall, the show was a great experience and one I will never forget.