Students Appreciate Music
New Club Serves as Outlet for Students to Share Music Taste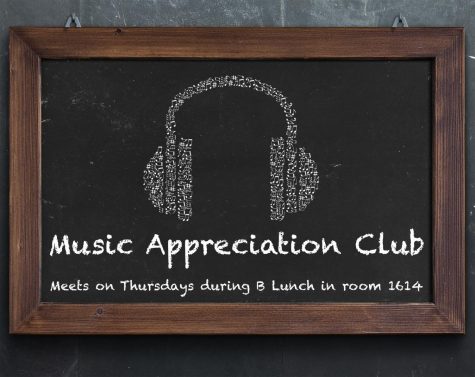 This year marks the start of multiple new clubs ranging from sports to art, and now music. The recently started music appreciation club grows each week, with new members expressing their tastes and feelings about music. Every Thursday during B-block, students with a passion for music meet and talk in great detail about their favorite groups and genres.
The club does not have an official president as of yet, only the sponsor and host of each week, Matt Terill. Students are able to experience new music each week and expand their tastes while broadening their boundaries.
"Some students asked if I would sponsor a music club because I liked cool music according to them," Terill said. "I couldn't find a reason to say no and we got the ball rolling."
Music appreciation club usually gets around 15 to 20 people each week in attendance, where all members interact with one another about their music preferences. The goal of the club is to introduce people to new ideas of music through different people's viewpoints.
"Most of my friend group loves music and I thought it'd be great to share some opinions and thoughts on different artists and albums," junior Rory Busby said. "It's a great environment to explore new tastes and learn some new music."
The group strives to have a non-led club, but rather with every person as equals who share their own opinion over each song. 
"It's more like a group conversation and anyone can give their own inputs and it's fun to hear different opinions from different people," Busby said.
Each meeting, a discussion is held as an entire group of individuals, to allow each member to gain new points of view for each song or genre they're hearing.
"I think the club is meant to be a judgment-free zone to just discuss what you're listening to, give recommendations, and just appreciate music," junior Angela Castor said.
Music and ideas are spread easily through the club, with people voicing their opinions on what they do and don't like about specific genres.
"I think a lot of people enjoy music and should be able to share it," Busby said.
While the club's future isn't exactly certain, it seems many enjoy the meetings that have happened so far. Members prefer the club for its laid-back atmosphere and approach to music and the knowledge of it.
"I think the main idea of the club is to share your thoughts and have a discussion about what you're passionate about," Castor said.