'Smart, Passionate, and Sometimes Lazy'
Senior Eli Valentino Leads Eagles by Example in Hopeful Championship Season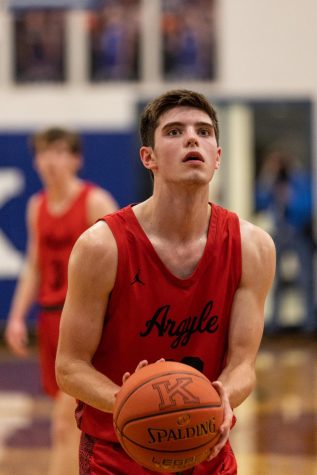 The whistle blows as the Eagles huddle up to talk. Head Coach Russell Perkins draws up a play for his senior guard Eli Valentino and the lineup heads back onto the court. Once again the refs blow the whistle and the game is back on. The ball is inbounded to Trey Utter who surveys the court. He makes a pass to Valentino who lays up the ball and scores his 1,000th career point. The home crowd erupts with applause and cheers as the Eagles go on to win the game.
Valentino has been a part of the basketball program since his seventh grade season and ever since then, he has been improving. He's seen as a key part of the team's success and made school history on Jan. 21 with his milestone 1000 points.
"Eli has a drive for excellence that sets him apart from most people," head Coach Russell Perkins said. "Over the years he's become a much better player and is constantly working on getting better at things that some of the best players don't even attempt."
Not only improving on the court, Valentino constantly improves in the locker room as a teammate and is able to lead and guide the younger players this season.
"It's been a lot of fun to watch [Eli] grow as a leader, especially with the new guys who joined us this season," Perkins said. "He works so hard to better his game that he's earned the right to be able to tell people when they aren't doing something right, his ability to do that has really been able to help us this year."
His ability to lead the team attributes to his personal success on the court as seen by his 1,000 point milestone. 
"It really is just a testament to my teammates and their ability to get me the ball," Valentino said. "I couldn't be more grateful for the years I've spent here scoring and being a part of the team."
As an important member of last season's state championship team, Valentino believes the current roster has what it takes to go back to back and win again.
"We've got our eyes set on another deep playoff run this year," Valentino said. "As a younger team we are finally starting to clique and come together. We have what it takes to contend for another state title. We know it.
Being a senior, Valentino has his eyes set on his future after school, and while he isn't entirely sure what his next move will be, he says basketball will always be an option.
"I don't really know what my future in basketball holds," Valentino said. "I'm definitely going to keep the option open, but no matter what I choose, basketball will always be a part of my life."
Even if Valentino chooses to stay away from basketball in the future, his time as an Eagle will always be remembered and even after he is gone, his lasting impact will be felt.
"The program has meant so much to me throughout my time," Valentino said. "I met so many friends and made so many memories here. It's truly been amazing. I wouldn't trade it for anything."