Senior Debater Makes History at State Capitol
Listening to the lyrics of Frank Ocean as he strolled through the halls of the Texas Capitol, senior debater Tristan Ball wasn't really thinking about making history—but that's what happened.
Since joining the team his freshman year, Ball has been able to step up and become a role model for his younger teammates in his final year, and on Jan. 12, he competed at the Capitol in the state's student congressional debate contest.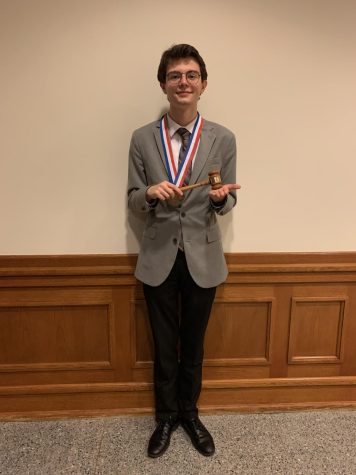 "Tristan is the most well respected debate member I have on the team this year," debate coach Jessica Reynolds said. "The whole team looks up to him and he's done a great job mentoring the younger students."
His influence is also felt outside of the classroom. Many alumni have been able to take important experiences away from their time working with Ball and use them in their futures.
"Tristan was great to work with, he was such an amazing partner and definitely one of the smartest I've ever worked with," alumnus Billy Mykel said. "There were times we struggled getting our feet off the ground against some of the bigger schools, but Tristan is just one of those debaters who can hold his ground against them."
Ball has been able to make a name for himself ever since he joined the team, but found major success after going to state for cross-examination his freshman year and twice again the following two years in which he placed the highest in school history.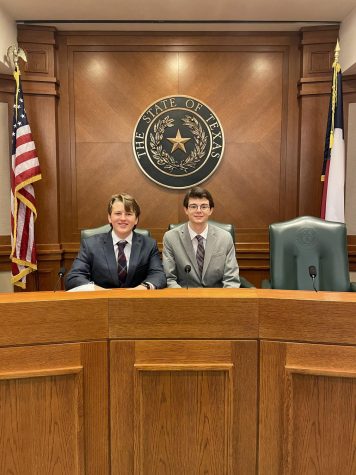 "I never would have expected to win to be honest. I didn't really know debate had statewide contests at that time," Ball said. "It was so early in my debating career, but I'm thankful for the experiences I gained by being a part of those teams at such a young age."
When his senior year came around, Ball had an opportunity to make history again when he and the team advanced to day two of the state congress tournament. Ball became the highest in school history to place at state for congress and was also named outstanding presiding officer.  
"It had been such a hectic day during the prelims round, we were all super excited," Ball said. "I was super excited about it all, making history was something I never thought I could do. It still doesn't feel real to me."
Ball doesn't attribute all of his accomplishments to just himself. When preparing for a major speech, Ball takes a different approach than most.
"Preparing for state was so much work. We spent countless hours going through articles and speeches to get ready," he said. "However, I really like listening to music when studying. I like to think of Frank Ocean as my secret weapon. I always listen to his music before a tournament. It's almost like a good luck charm."
While Ball views Frank Ocean as his "good luck charm", he has earned the respect of his peers and coaches throughout his time on the debate team because of his attitude, accomplishments and the ability to create new opportunities not just for himself, but also for the team in the future.
"Moving forward he has set a foundation [for the team] and his legacy will live on for a long time even after he's gone," Reynolds said. "He has such a bright future ahead of him. The sky is really the limit for Tristan. He can do anything."