Remedy Sings 'From the Ashes' for Next Album
Remedy A Cappella announced the release of their new album, 'From the Ashes', on November 9.
The award-winning group put together 4 songs for the newest release, which has been in the making for 18 months. This will be Remedy's third studio recording project and will be released on December 4. The album will feature all of the unique voices of Remedy, including solo parts from a few of the members. It will be available on all major streaming platforms including Apple Music, Spotify, YouTube, and Amazon Music.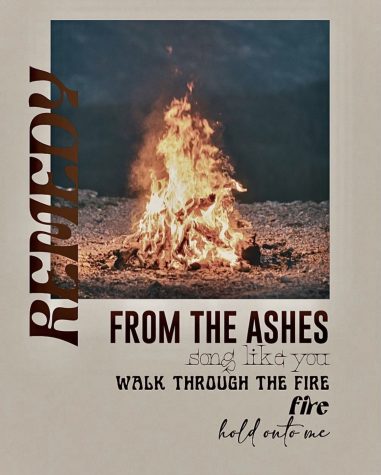 Working alongside his students, Remedy and choir director, Will Griswold has put in many hours to make the album come to life.
"Recording an album with Remedy is always really fun," Griswold said. "It's really cool to see the students challenge themselves when they're recording. I also really like the recording process. It helps students realize that they're capable of doing amazing things."
This album is a representation of the group's work ethic and dedication during its creation.
"By putting in hours of hard work and practice, we were able to create something that we can be proud of," junior Gabi Kooiman said. "Listening to our songs makes us reflect on how much our practice paid off. You can hear the attention to detail and emotion put into our work and it shows what Remedy is passionate about."
By being in Remedy, members have an opportunity to gain experience and produce music early on.
"Being in Remedy as a freshman is one of my biggest accomplishments," freshman Madelyn Tubb said. "Getting to tell people that an album [that] I sang in is on Spotify is so cool. I got to meet new people through the process and make so many friendships. It was a lot of work but it will all be worth it soon."
For the seniors in Remedy, the last four years of high school have all led to this album and the relationships they have built.
"When I first joined Remedy, I wasn't really sure what to expect," senior Hannah Kasprzak said. "As the years carried on I realized how close I had become with all these people, every single person playing a significant role in my life. In general, the Acapella community is so supportive, especially through the process of making an album." 
On the day of the album release, the group will be at Acatex A Cappella Festival in Rockwall, Texas to celebrate this achievement. If Remedy wins first place in the competition, the group may be awarded a professionally produced music video.
"I think this experience helped these students grow a lot in their singing career," Griswold said. "It's a really cool experience that most high school students don't get to say they've done. I can't wait for Remedy to experience the final product of all of the hard work that went into this."