Tensions Across The Board
This Monday, November 15, a board meeting was held at the school in order to discuss multiple topics throughout the community. City residents met with members to discuss future changes to zoning and their issues with them. 
"I am not interested in being rezoned to an area where I have no voice in the local politics and zoning decisions that will impact the demographic and community surrounding the elementary school in which my elementary-age child will be zoned," local resident Alice Copeland said.
Other residents also have issues with the rezoning and developments being put into place. This allows for more change and to better the community. 
"The developers are reporting 2,000 to 3,000 to, I've heard, 5,000 trucks that will be going through our area a day and back out again," local resident Tamara Jolly said. "We've started a petition against that and we have 16,000+ signatures on that."
Outside of meetings to discuss local issues, some UIL teams were given special recognition as well. 
"This is a phenomenal band," superintendent Telena Wright said. "There are many competitions that the band has to go to before they ever get to state, and out of 26 bands in state, our team was the only one to get all 1s."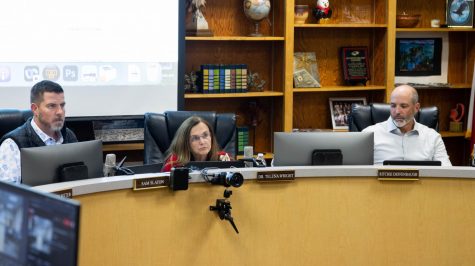 Along with the band, the boys' and girls' cross country teams were recognized for their successes at state. 
"This marks our third trip to the state meet as a team," girls' cross country coach Greg Martin said. "There's a lot of repeated success in this program, and that has shown within our region."
A representative from Pogue Construction followed up with construction plans and projected milestones for the new elementary.
"Projected substantial completion for elementary 3 is within July 2022," Foreman Jeff Cowen said.
Following this, Dr. Deana Steeber presented ACT and SAT statistics from the graduating class of 2021.
"Even through COVID our students have (maintained) a consistent increase in our main total score for the SAT," Steeber said. "With that being said we have seen more progress than even before COVID was a thing in our world today."
Upon the review of the communities testimony, The board voted in favor of postponing any further decision on the basis of rezoning for Elementary 3 and opted for the purchase of 2 new school busses for district use. Even with all of the formality of this meeting, there was shown to be a positive light.
"This is really good to hear these kids come up and say how great they've done in track, and tennis, and band and they're outside and all that," Jolly said.