Tennis Teams Earns Second In State Tournament
The Argyle tennis team made history by taking second in the class 4A state tournament, with this being the first time the team has ever gone to State. The team secured the achievement by winning day one against Little River Academy 10-1 and narrowly losing on day two against Wimberly, 10-7. 
"The match was really intense and nerve-wracking, while still being a ton of fun," junior Olivia Underwood said. 
Going into day one, the team needed to go in strong in order to secure a spot at the state championship match. 
"We were all determined to make it to the finals," co-captain and junior Elaina Hildner said. "We kept pushing and challenging ourselves so we could advance."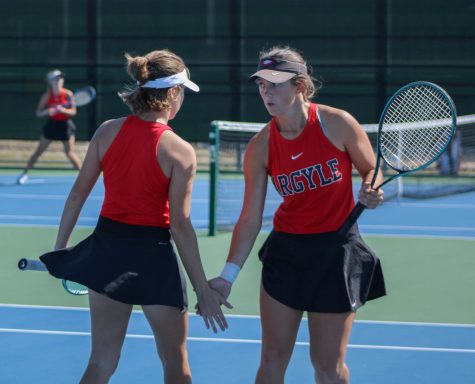 After the first day, players were ramped up and ready for day two, with the coach contributing to the excitement.
"The team was super hyped up on energy," junior Cody Gill said. "Coach Mihok was even excited and ready for the next day."
Halfway through the match, the team was down 2-5 in doubles, the exact same as the week before in region. There were multiple different factors that would determine the winner of the state match.
"We knew we had a ton of work ahead of us to continue through the match and we were ready to persevere through," captain Drew Van Wyk said.
Towards the end of the match, the team was down 9-7 in singles with the remaining three matches all in tiebreaks. The match could've gone either way at that point in the tournament.
"I felt like we were battling and we had a shot, once again realizing our potential and building the pressure," tennis coach Adam Mihok said. 
The Eagles were down in doubles 2-5, then the final singles matches finished in a tiebreak finalizing Wimberly's win. 
"After losing the final match, I felt like I was the reason the team lost, but my teammates reminded me that there were nine other matches that came off on the losing side as well," sophomore Austin Lewis said.
The team ended with a bittersweet victory, earning second place in the finals. The team's journey leaves a lasting impact.
"I could not have asked for a better ending to my senior season, no matter the outcome," senior Jacob Ramon. "We ended number two out of over two hundred teams and it is truly a one-of-a-kind experience."