Seton Hall Signing to Play Soccer in Fall 2022
After getting kicked out of ballet for being too energetic, she fell in love with soccer. Starting at three years old, the game has now changed her life forever.
Despite facing challenges presented by COVID-19, on November 11, senior Emma Sheehan took the next step by officially signing to play collegiate soccer at Seton Hall University.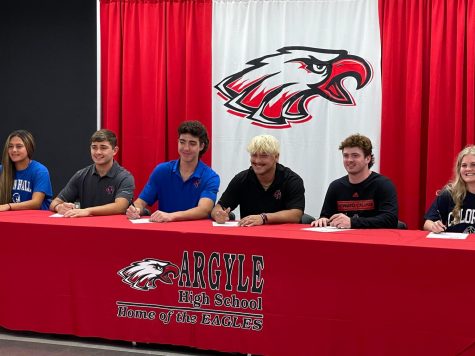 "It was hard for me to get recruited early," Sheehan said. "There was a deadline for D1 schools because they couldn't come to the games. They couldn't trust you as a player on video, so they had to meet you in person and it was difficult."
The importance of proving her skills and talent led her to receive a scholarship offer.
"It was just sending highlights that I did during the games that made them impressed, so then they just followed up with me," Sheehan said.
Along with receiving a scholarship, Sheehan chose Seton Hall University to further her education and future career.
"I chose it because it's a good PA (physician assistant) school and that's what I would want to do," Sheehan said.
Seton Hall is located in New Jersey and Sheehan sees the distance as a benefit.
"I think just moving across the country from my parents would be a good thing for me to be by myself and just get prepared for life," Sheehan said.
Preparing for life also includes chasing her goals.
"I would love to go pro, that's my number one goal," Sheehan said. "My second goal is to get into PA school, become a PA, and go on from there. So I can have a good life and retire early if I want to or even have kids."
Before she pursues her long-term goals, Sheehan is focused on the final year of her high school career and bettering the future of Argyle's soccer program.
"Hopefully [I can] make the high school team better for next year and win state for this year," Sheehan said. "[And] just make everyone better as a person."
The impact of soccer has become a foundation for her life.
"It's basically my whole life, that's just what I do," Sheehan said. "It's just my life, I don't know how else to put it."