Cheesesteak Connection
In light of the COVID-19 pandemic, travelers return to try Philadelphia's famous comfort sandwich, the Philly cheesesteaks.
Opening the big, red door of Reading Terminal Market, the aroma of fresh-baked goods and the taint of seafood wafts through the air. After COVID-19 limited business for nearly two years, the hustle and bustle of the market in Center City has returned. 
While others were enjoying meals or browsing for groceries, Paula Warnken caught up with a friend for the first time since March 2020. On her first trip since the pandemic, Warnken chose Philadelphia as the meeting point between her home in Cincinnati and her friend's in D.C. The one piece of advice requested by her son: indulge in a Philly cheesesteak. 
 "When (her son is) traveling, if he can find a Philly cheesesteak, that is what he gets. It's his go to food," Warnken said. "He wanted me to have a cheesesteak on South Street."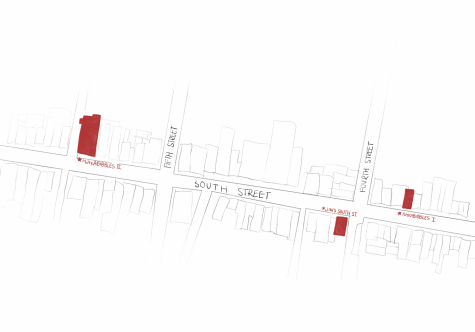 Warnken struggled during the pandemic, unable to visit her cheesesteak-enthusiast son and connect with family members and friends. 
"We love Philly, and it's a good place for us to eat," Warnken said. 
 Several tables over, Jeff Smith, another tourist passing through Philly, reunited with friends over a cheesesteak. 
"We're from Connecticut and I've always loved cheesesteak sandwiches," Smith said. "I've never been to Philadelphia, and we were told by a couple friends that if we were going to get a true Philly cheesesteak sandwich to go to Spataro's."
Spataro's cheesesteaks has served the famous sandwich in the market for 74 years. Kaashif Porter, a three year employee, experienced first hand the hardships of the shutdown on Spataro's. Porter, who returned to work when the shop reopened, defended Spataro's name against other steaks in the market and greater Philly. 
"If you taste our cheesesteaks, I don't really think there's any competition," Porter said. "You can ask anybody in the market [what] the best cheesesteaks are and they'd say here." 
Spataro's is not the only Philly cheesesteak in the market. Lisa Kling, an employee at Carmen's Famous Italian Hoagies, describes how she has noticed the "ups and downs" of her customers throughout the pandemic. But one thing that has remained the same: the dedication to making the best cheesesteaks.
"We care. It's not about rushing to get it out, it's not about money, it's about being the best," Kling said. "We have our top notch ingredients and we take our time to do it right,".
Throughout Philly, cheesesteak rivalries are rampant. Three steak shops within three blocks compete for customers on South Street. Pat's and Geno's, tourist hotspots, face off across the intersection of Ninth Street and East Passyunk Avenue. Similarly, Carmen's, Spataro's and other cheesesteak servers fight to serve the best in the Reading Terminal Market.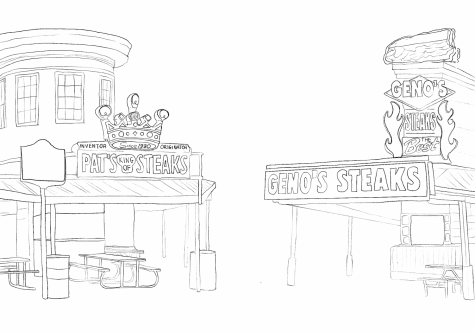 Despite the friendly feud, the cheesesteak contenders share their passion of cooking for Philadelphians, tourists and passersby.
"We care about what we do," Porter said. "It's not just your average cheesesteak. We really try to establish a name for ourselves."
While COVID-19 limited the opportunity to travel for an authentic Philly cheesesteak, the sandwich remained a consistent source of joy during the challenges of the past two years. Now, the cheesesteak is playing a vital role in reconnecting people like Warnken, Smith and many others across the country. 
Jeravan Iesara and her husband felt cooped up in their home in Washington D.C. during the pandemic. Since guidelines have loosened, they have taken every chance to road trip. 
"We came for a trip, we went to Bucks County and spent a couple nights there," Iesara's husband said. "Now we are on the way back home and decided to to stop here."
As passersby through Philadelphia, Iesara and her husband decided to make a pit stop at Reading Terminal Market. The Iesara's, who normally go to Geno's in South Philly, traded their usual stop for a cheesesteak from the market. 
"If you come to Philadelphia and you don't have a Philly cheesesteak, don't ever come," Iesara's husband said.