Coming to America
The Life of Vedant Tripathi
A collegiate men's volleyball player and an avid cricket player at home, math teacher Vedant Tripathi really just loves taking care of his lawn.  As a young boy, he grew up in the blistering heat of India and made the move to Texas to do what he loves, math.
After beginning his teaching career at Prosper, Tripathi is now kicking off his third year at Argyle teaching his passion and his hobby, math.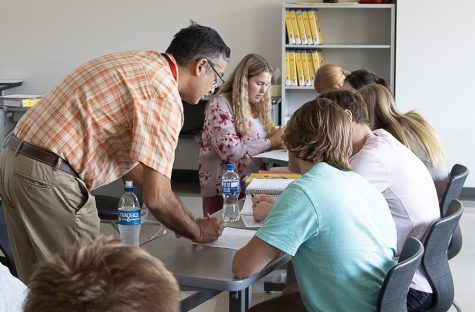 "I taught at Prosper High School for two years," Tripathi said. "I think Argyle does a lot of things right. We have a very nice school, and I have found nothing but support since coming here."
Prior to moving to Texas, Tripathi spent the early years of his life in India, which is where he grew up.
"There are a couple of huge differences between India and Texas," Tripathi said. "The biggest has to be the heat, it's warm here, but in India, it is very very hot." 
Along with the heat, Tripathi grew up in schools that had no air conditioning and a very noisy, loud environment.
"We just had fans blowing the hot air around in our rooms," Tripathi said. "The noise [was] huge too, there [was] just so much ambient noise, it [was] very very loud there."
Outside of school, Vedant enjoys many hobbies such as lawn care and you guessed it, math.
"I think a lot about mathematics. It's more than my job, it's become one of my hobbies," Tripathi said. "I also love to work in my yard. I mow and like to keep it looking nice and keep it up." 
Tripathi earned his degree following a long path of schooling prior to his teaching job at Argyle.
"I did marine engineering for a bit then got my MBA in finances and operations," Tripathi said. "Once back I decided I was going to teach and got my master's degree in mathematics at Texas State."
While at Texas State, Tripathi participated in many extracurricular activities including school sports.
"Well, how I played was much different than it is now," Tripathi said. "I played a lot of cricket and a lot of volleyball and I think it's safe to say that I was very good at volleyball, not so much [at] cricket."
Since Tripathi has made the move to Argyle, he has made a positive impact on his students and the school altogether by teaching what he is passionate about and is looking forward to impacting future students in the years to come.
"I think the students are just simply amazing," Tripathi said. "I am fully in awe of the school and whatever Argyle ISD has done. I am glad to be a part of it and these students' lives for the future to come."