An Overview of this Unforeseen School Year
As we all know this school year has been a whirlwind for a number of reasons. It is pretty safe to say that we are quite relieved it is coming to an end. Our whole country had to figure out a new way to live our lives, which especially included school. 
Many students and teachers had several different challenges they faced throughout this school year. 
"The most challenging thing about this school year was not being able to spend junior year with my best friends,"  junior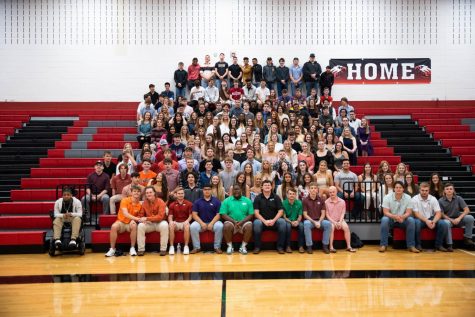 Sindy Haxhiaj said. "This was because half were in person and half were online."
Even though Sindy struggled with not being able to be with her friends, junior Gaston Campbell struggled with wearing a mask all the time. 
"The thing I am looking forward to most next year is the fact that we don't have to wear masks and everyone will be back in person," Gaston Campbell said. "The most challenging thing about this school year was how we had to keep our masks on at all times."
Mask seemed to cause a major impact on all relationships and interactions.
"It is much more difficult to read people's emotions and impossible to read their facial expressions," Baker said. "This made building relationships with students and teachers more difficult."
Everyone had to learn a new way to communicate and connect with one another. 
"Students and teachers were able to build relationships in different ways due to the new circumstances," Haxhiaj said. "Which caused us to cherish the time we got to spend with one another."
 Middle school teacher Jenny Baker struggled with all the uncertainty and unknown due to COVID-19. 
"Not knowing if we were going to start school on time in August and when we did what it would look like and how everyone would react," Mrs. Baker said. "Then not knowing if we would get shut down and if we did, what would that look like?"
Everyone had feelings of uncertainty and worry about the 2020-2021 school year. Which is why I think everyone is hoping and looking forward to a much more normal school year with hopes that this virus will go away. 
"I am looking forward to no masks and normalcy in classrooms and activities," Baker said. "Having that relationship with our students without having to stay 6 feet apart or have a difficult time hearing them through their mask."
As we end this crazy school year, and are approaching a new school year, everyone is in hopes of a normal year.