Lady Eagles Advance to State
Following an emotional success over Canyon, the Lady Eagles defeated the Bridgeport Sissies 42-38 in the second round of Region playoffs. The team will advance to the state tournament, where they are looking to continue their five-year championship streak.  
No. 1 Canyon was picked to win heading into the first game. The Lady Eagles were ranked No. 5. 
"It was so exciting," senior Grace Freeman said. "We were down the first three quarters but in the fourth quarter we came back, pulled strong and beat Canyon. Twice in a row."
The team also battled the loss of starter Kiley Lavelle, who was out due to an appendectomy. 
"That's tough when you lose a starter, but I thought our kids just battled," Coach Chance Westmoreland said. "I thought if we could hold them for less than 40, our kids could win and I think they had 39, so we'll take it."
Canyon is known for being a powerhouse in their district, and a strong defense was necessary for the Lady Eagles to maintain their winning streak.
"I'm just so proud of our team, we stepped up," Westmoreland said. "Rhylie carried us offensively, but defensively we just fought. We fought the entire game."
The Lady Eagles faced the Sissies twice previously during the season, pulling away with a narrow two-point win on Jan. 10. 
"We knew that Bridgeport was going to be out to beat us after we beat them twice this season," freshman Madi Lumsden said. "We knew that they were going to come out strong."
Junior Bailey Timmons was the first to score, and senior Abby Williams led the team with seven rebounds. Senior Brooklyn Carl had the most assists of any player at seven. Each player played an integral part of in the team's pursuit of a win.
"Coming into the season, we knew that we were stronger than last year and we bonded a lot more," Lumsden said. "We did things outside of basketball and we just hung out with each other, which built the bonds that made us a lot better as a team."
Despite a 13-11 lead in the first quarter, the Lady Eagles fell back as the clock grew closer to halftime, with a score of 17-20 at the half.  
"Playing such an emotional game [on Friday] and then having to play Bridgeport a third time [was a challenge]," Westmoreland said. "We just didn't play as well as we needed to the first half." 
The team came back in the third quarter, scoring 15 points as opposed to Bridgeport's nine in the third quarter and defeating the Sissies with a final score of 42-38. McKinney led the scoring, single-handedly sinking 32 of the 42 points the team made. 
"Rhylie's four-point play in the third quarter [was a highlight]," Westmoreland said. "We were down, and that gave us a lead. We played pretty well from then on." 
Over the years, the team has had the opportunity to grow closer together both on and off the court, strengthening the bonds necessary for effective team play.
"We've got great team chemistry," Westmoreland said. "Our seniors have been playing together since second grade, so they get along well. We've got some good young kids and I think that's important that our kids get along well."
The students' time playing together and strong coaching also creates a sense of trust within the team, according to McKinney.
"We've grown a lot," McKinney said. "Our coaches have really prepared us. Coach Wes has been an outstanding coach to me and he's grown me to be the best player I can be. With the teammates I have, they trust me, we trust each other."
Looking ahead to State, the Lady Eagles have a quick turnaround before the next game.
"State is going to be tough, but everything for us this year has been tough," Westmoreland said. "There's a lot of good teams and we're going to have to prepare and play good basketball like we have all year."
The Lady Eagles will take on the Fredericksburg Lady Billies in the state semifinals on Friday at the Alamodome in San Antonio. Tip-off will be at 3 p.m.  
"[Heading into state] there's going to be a lot of preparation," McKinney said. "We're obviously going to get treatment and rest right now. We're going to celebrate this win for a few days but now it's back to business."
About the Photographer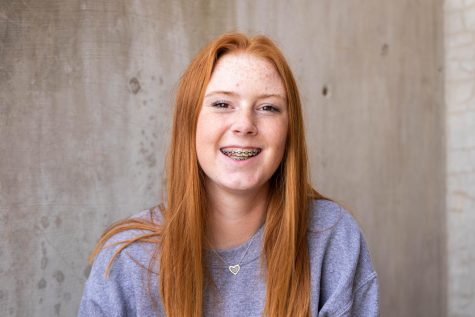 Rylie Halk, Reporter
Rylie Halk is the Editor of Social Media for the Talon News as well as a photographer and videographer. Outside of Talon, she is a member of the softball...