Lady Eagles Edge Out Lady Tigers; Advances to State
Argyle Lady Eagle V. Hardin-Jefferson Lady Hawks in the Alamo Dome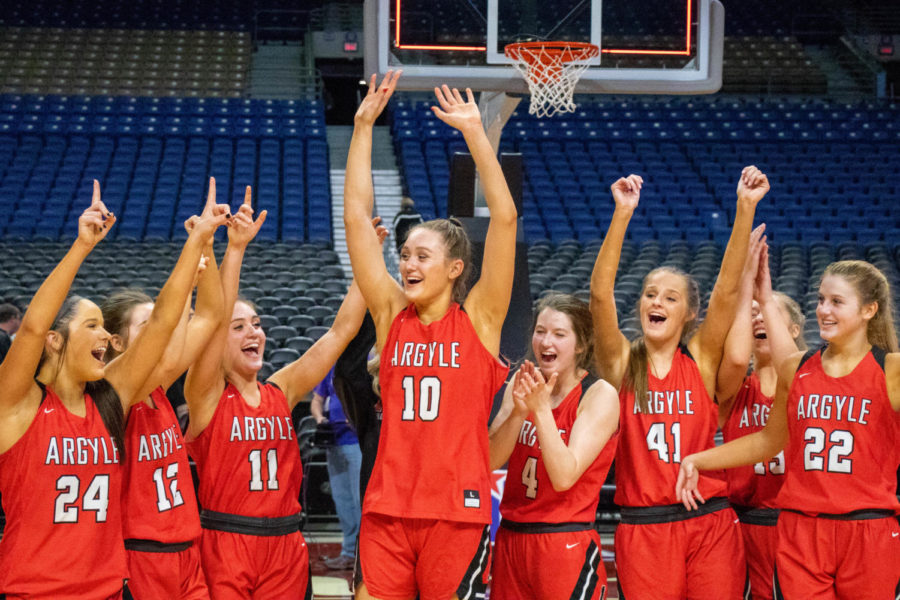 The Argyle Lady Eagles will now advance to the state championship once again, as they defeat the Dallas-Lincoln Lady Tigers, 53-51 in the Class 4A state semi-finals. The Lady Eagles were able to end Dallas-Lincoln's 24 game winning streak, to eliminate them for the fourth consecutive year. This was Dallas-Lincoln's first state tournament appearance since 2013.
The Lady Eagles started the game with superb defense, allowing only one point in the first quarter. However dominating the first-half offensively and defensively, the Lady Tigers slowly chipped away at Argyle's lead. Dallas-Lincoln was able to take advantage of Argyle's struggling offense throughout the second half forcing 24 turnovers. This allowed the Lady Tigers to gain a 51-49 lead. With less than 10 seconds left in the fourth quarter,  outstanding defense by junior Rhyle McKinney, forced a turnover and she was able to draw a foul.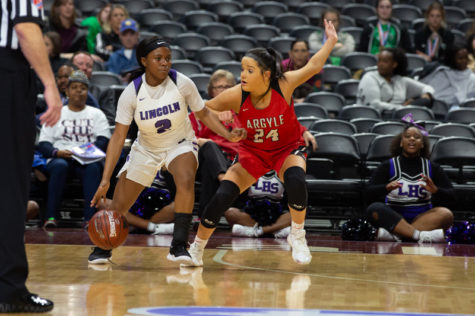 McKinney makes both free throws. "I felt comfortable shooting the free throws and being able to knock them down to get the two-point lead," said junior Rhyle McKinney. As Dallas-Lincoln goes up for the final shot, "Big Game" Brooklyn Carl was able to tip the ball away to junior Abby Williams gaining control to secure the Lady Eagles seat in the championship game.
Junior phenom Rhyle McKinney was yet again excellent, offensively. Scoring 27 points and was perfect (12-12) from the free throw line. She also contributed seven rebounds and five assists.
All-regional tournament team member, junior Abby Williams, was dialed in from behind the arc, scoring two big, second-half three-pointers. Williams was very aggressive on the boards grabbing 11 rebounds. She finished the game with seven points.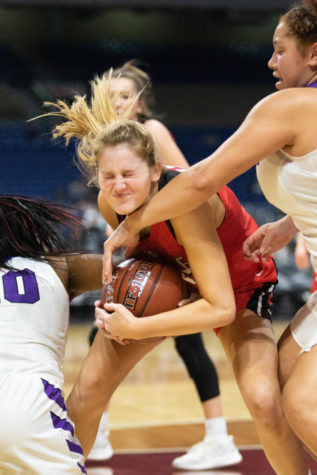 Battling through an ankle injury, junior Kiley Lavelle was unsure if she would even play in this game. However, she was able to push through and come off the bench to grab three rebounds, 4 out of 5 free throws, scoring 12 points, second highest scorer on the team, in the game. "We didn't even know if she was going to be able to play till right before the game," said head coach Chance Westmoreland.
Junior Brooklyn Carl was a stat sheet filler, scoring five points, two rebounds, four assists, and two steals. "Brooklyn's defense was a big part of the game," said Westmoreland. Senior Kennedy Reeves was the defensive anchor the Lady Eagles needed in the post. Scoring two points and three rebounds, she was also able to get two steals and a block.
The Lady Eagles will go for their fifth consecutive state championship against the Hardin-Jefferson Lady Hawks, at the Alamo Dome in San Antonio, Texas, on Saturday, March 2, at 7:00 P.M.