Students 'Shine' Through Fine Arts Showcase
Shine, a fine arts showcase, was hosted by the art director Tonya Kosla on Monday, March 5. This annual event is a way that the Fine arts department can showcase their talents by displaying art, singing, acting, and much more.
The showcase is a relatively new addition to the High School's calendar and provides the students with an opportunity to show the community their work.
"This is our second showcase," Kosla said. "What made us decide to put this together is that we wanted to kinda bring together all the fine arts events and kind of have a culmination at the end of the year where we would showcase everything."
The fine arts showcase has been a year long process, and the theatre department has shown a substantial amount of effort.
"This whole year has been a process of preparing," theatre department director Melissa Toomer said. "All of the things we've worked for. Thespian convention, uil,  and then audition processes, we use monologues sometimes, and so, just, things we do in the classroom has just geared us towards this showcase."
Along with theatre, the band has been hard at work, preparing and rehearsing music to perform for the community.
"I enjoy bonding with the other flute players, and I enjoy the challenging music and the way that it flows together with the other parts of the flute ensemble," band student Lizzie Dagg said. "It's rewarding to finally master a piece of challenging music and know that your work has paid off."
The fine arts department has been a great opportunity for students to not only learn about the arts, but also socialize with their peers and become closer to those around them.
"If you're talking about choir, my favorite thing is probably getting better and learning a lot more, and also being able to help other people around me," freshman choir and acapella student Kassidy Rosengren said. "But when it comes to acapella, it's more of just being with them. It makes me really happy. It's very family like there."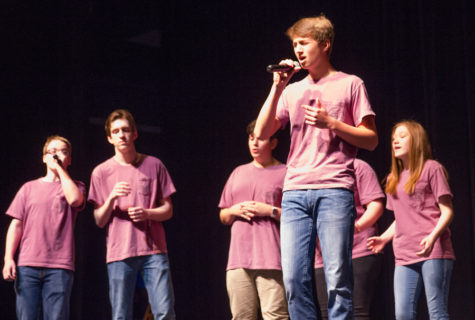 The showcase shows how similar those in the fine arts department can truly be.
"I think the showcase is great because it combines all of the arts in a way," choir and acapella director Will Griswold said. "We take all these things, art, theatre, choir, and drill team. They're all different but they all still share so much creativity. That's the common bond between them all: creativity and being able to express ourselves in our own ways."
This showcase is an important event for the community to come together and appreciate the talent of these students.
"This program allows parents and teachers to take a moment out of their busy lives and just embrace the a moment filled with peaceful music," Dagg said.
The showcase is not only a chance for students to display their talents, but also to learn about what's around them.
"It's like a talent show for the people in the fine arts, to show your skills and your work that your group has done," Rosengren said. "So maybe you don't know very much about choir or about poetry or theatre, and then you go to this fine arts showcase and it opens you up to this world of things you haven't experienced before."
The fine arts department and annual showcase provides countless opportunities for students to present their many talents to the community.
"It showcases what they've done," Kosla said. "All the hard work and hours they've put into what they've produced, whether it's learning music, learning dance moves, learning new techniques in drawing, painting, or sculpting, they are able to tell everyone what they've done."