Argyle ISD Receives National Attention
In the wake of Florida shootings staff and students choose to remain proactive, positive
Hang on for a minute...we're trying to find some more stories you might like.
It all started with an interview on MSNBC.
Now catching the eyes of President Trump, armed staff policies like Argyle's bring the community to headlines across the nation following the Feb. 14 Florida shooting.
"Since we think it's a viable thing that we're doing, we want to just give the people the opportunity to think about and consider it as well," AISD police chief Paul Cairney said. "When we first got the opportunity, when Dr. Wright, Mrs. [Pam] Arrington and I found out that MSNBC wanted to do a story, we were a little bit hesitant. We really thought let's go ahead and do it anyway."
Cairney sees the attention towards the gun policy, which allows volunteer teachers who complete rigorous psychological and arms training to keep concealed weapons inside the classroom, as an opportunity to coach other districts who want to establish similar protections.
"We're proud of [the gun policy]," Cairney said. "It's grown, and we think it's effective. If that's an alternative that other school districts can use, then we want to give them that idea. Then also coach them through it, and help them start their own program if they want to."
While the broadcasts on local news stations, nationally broadcast interview, and an article in the Los Angles Times offer potential benefit to the safety of other schools, they also bring concerns for the safety of the high school.
"I feel safe in our school because of the teacher carrying policy, however, with our school's policy being so much in the public eye right now, I feel less safe than I have in the past," senior Gabriella Cate said. "Polices such as these are delicate matters, and having it publicized nationwide brings positive and negative attention to it, which I don't believe was the purpose behind it. I think I speak for myself but also for many other students in our school when I say that the publicity our school is currently getting makes me a little nervous."
No matter their concerns of attending a school under public scrutiny, students, in a project sponsored by Student Council, are connecting in a support campaign 'from one Eagle to another' to send letters with positive messages addressed to Marjory Stoneman Douglas High School.
"I know that there's a lot of adversity and whatnot about gun control, but this is just a way to unite us all together," senior class president Lizzie Dagg said. "I just couldn't stop thinking about the kids and what they must be going through, so I was like we really should do something for them even if it's just a little gesture—just send our love their way."
One student, Tatum Pilawski, took the shooting personally after meeting two students involved in the tragedy on Houseparty, a group video chat app.
"They asked if I could spread the word to get to know everyone and become close with everyone, so you can understand what people are going through," she said.
That is just what Students Council's letters aim to do, which will be delivered to Stoneman Douglas along with a banner created by UNICEF, signed by Eagles for Eagles.
"I hope they know they're not alone, and that we stand with them," Dagg said. "We'll do whatever it takes for them to heal and to send our love with them."
As students continue to lend support to fellow Eagles, Cairney and administration already have more proactive safety measures in the works. They recently contracted with a company in order to extend a 'geofence' that to will be able to detect signs of bullying and suicidal and violent thoughts in messages and pictures on social media within an adjustable radius from the school.
"The main motivation is simply, we want to do our best to keep our students safe," Cairney said. "There's a reactionary part of it, of course, and that's the part that gets all the attention, but really what we've been focusing on more is the proactive part, so we can detect the problems before they get bigger problems. Those are the things we want to get ahead of as well, it's not just the active shooter."
In addition to it's armed staff, the school also keeps ready for a potential shooter through exercise programs, like they practiced two summers ago with the community's emergency response team, increased physical security, ensuring visitors pass through checkpoints before being buzzed inside school halls, and the police department created specifically for the district after Sandy Hook.
"We have more protections in place than a lot of people think," Cairney said. "We get the attention because of our armed staff program, but we do more than just that. We really want to make sure we are always doing the right thing to protect our students are here."

About the Writer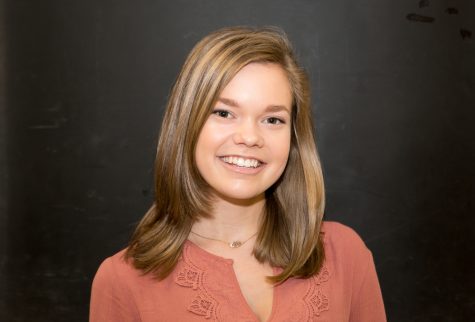 Miranda Downe, Managing Editor
Miranda Downe is the Managing Editor for The Talon News. She writes and edits news and feature articles and manages staff production. She also participates...