Hispanic Heritage Month is celebrated from September 15 to October 15, with the primary goal of celebrating Latino heritage, culture, and contributions to the United States. The observation of Hispanic Heritage Month started in 1968 under President Lyndon B Johnson. Under President Ronald Reagan, it was expanded to a 30-day period and became official on August 17, 1988. Hispanic Heritage Month has been observed during this time at Argyle High School by students and staff.  
"Hispanic Heritage Month is a time for me to celebrate my Mexican heritage and the contributions that Hispanic Americans have made to the United States,"  Argyle High School Spanish teacher, Dr. Araceli Perez said, "It is also a time to educate others about Hispanic culture and to promote diversity and inclusion."
Hispanic Heritage Month is an opportunity for Latinos to showcase and express their culture to the public, allowing it to be valued. It is also a time to look back at the deep and rich history that exists. 
"This month allows me to get in touch with my other half and it makes me feel more connected with my other culture," junior Braedan Saldivar said.
Hispanic Heritage Month covers many Latino holidays like Indigenous Peoples Day in America, Día de La Raza or "Race Day," and the day of September 15, which is Independence Day for a majority of Latin American countries like Costa Rica, El Salvador, Guatemala, Honduras, and Nicaragua. 
"My favorite holiday is Día de los Muertos because it is just a fascinating holiday and I feel more connected with my family that has left," Saldivar said.
Latinos are a very diverse group, with origins from Indigenous America, Africa, Spain, and Portugal. These cultural blends are what created the modern-day cultures of Latin America.
"Hispanic Americans have made significant contributions to the United States in all areas of society, including business, science, the arts, and government," Dr. Perez said, "Hispanic Heritage Month is a time to recognize these contributions and to celebrate the diversity of our communities."
Latino cultures have many unique traditions and customs, millions of Latinos celebrate and enjoy. Music is a big feature of Latino culture, bringing people together through its passion and sound. Dancing is also a very important cultural element across Latino cultures, expressing one's self while also enjoying it with people you love.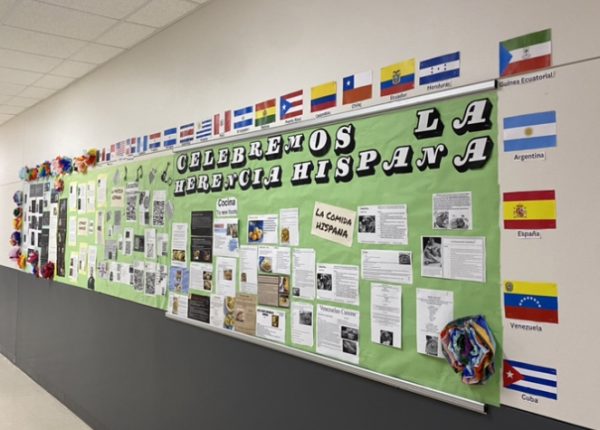 "Latin music is full of energy and passion. I love the different genres, such as salsa, merengue, and reggaeton," Dr. Perez said.
Music, food, and more is celebrated often in Texas. Tex-Mex culture is the blend of Mexican culture with Texas culture. This blend has created even more diversity in things such as food, music, and traditions, in an already diverse state.
"Certainly we have a wonderful blending of our Tex-Mex culture here, which is something that doesn't exist in the Northeast," English teacher Linda Black said.
Although food, music, and art are celebrated and on display during Hispanic Heritage Month, many Latino Americans feel underrepresented in general.
"As a Hispanic woman born and raised in Texas of Mexican descent, I do not feel like there is enough representation of Latinos in the country and state," Dr. Perez said.
As of 2023, the Pew Research Center estimates that there are currently 63.7 million Latino Americans living in the United States, with many Latinos tracing their ancestry back to Mexico. Texas has 12.1 million Latinos living within the state, making up 40% of the state's population, with future estimates putting Latinos becoming the majority demographic in Texas.
"It is too often that Hispanics aren't represented or worse misrepresented. I recommend watching Blue Beetle, to me that is a perfect way to represent Mexican immigrant families," junior Dante Lugo said.
With a growing Latino-American population, some feel underrepresented, especially in government. With that, there are also political issues Latino Americans are facing. 
"Since most immigrants to the U.S. are from Mexico or from South America, I would appreciate more Senators or someone in a position of power to help immigrants settle in the U.S.," junior Julian Lafayette said.
Hispanic Heritage Month is an important time for culture to be displayed and shared with members of the community.
"Latin cultural elements are unique because of their diversity, passion, and emphasis on community," Dr. Perez said. "These elements make Latin culture vibrant and exciting. I am proud to be Hispanic and to have the opportunity to share my culture with others."