A cool breeze blows through the air, rustling the leaves, as the early morning sun shines through the Post-Oak trees at Unity Park. Local gardeners gather in the parking lot, holding their old worn gardening gloves. A shovel pierces the ground and continues digging. slowly they remove the plastic pots and place the roots in the hole, filling in dirt around the plant and patting it down. Garden beautification projects like these are an essential aspect of the local community, and the Denton County Master Gardener Association has committed itself to educating and creating green spaces for the public. 
The Denton County Master Gardener Association (DCMGA) is a volunteer organization under the guidance of the Texas A&M AgriLife Extension Service. The DCMGA services all of Denton County with the goal of educating the public about science-based horticultural, and environmental information, and to help build more sustainable landscapes and communities. Currently, the DCMGA has 332 Master Gardeners, who annually volunteer 26,346 hours.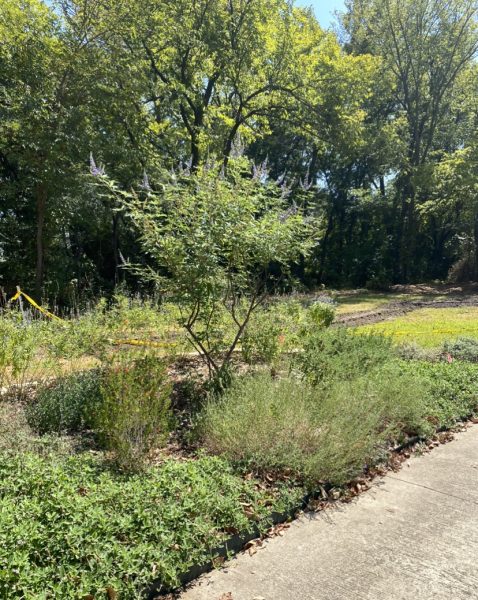 "Master Gardener is probably a misnomer because it goes way beyond gardens," Master Gardener Johna Johnson said, "Once you get into the Master Gardener Program, a lot of people have gotten into the Native Plant Society, or there are people that become experts in trees."
The Master Gardener program is more than just about plants, they educate their members on many subjects from soil health, to water irrigation and to edible gardening. The Master Gardener program prioritizes teaching about Earth Kind Principles, these principles teach that all of these components work together and are important for plants and the health of the local ecosystem. 
"So in the spring, we have our plant sale, we have our home garden tour, and we have the Denton County Master Gardener Fruit, Vegetable, Herb, and Flower Show, and it all comes back, to back, to back," Johnson said.
One of the objectives of DCMGA is to educate the community. DCMGA hosts public events and activities throughout the year. A major event Master Gardeners hold is their Spring Plant Sale on Saturday from 9:00 to 2:00 P.M. or until it is sold out. The event is one of the big fundraisers for DCMGA. The plants for sale are cheaper than big-box stores and also include plants not commonly found in nurseries. The plants are divided into different characteristics like sun or shade-loving, annuals, and perennials, or native and non-native plants. During the 2023 plant sale, it sold out of plants three hours after opening to the public.
"Then there is the home tour, which this year was awesome, this is when Master Gardeners open up their own gardens to be toured," Johnson said.
DCMGA holds an annual garden tour, where Master Gardeners open up their gardens to the public to be explored. The tour is a major fundraiser and educational opportunity for DCMGA and new gardeners, with every plant labeled and grouped together by light requirements. 
"Then we have the Fruit, Vegetable, Herb, and Flower Show," Johnson said, "This event is where we have educational booths and the opportunity to show off prized edibles and floral harvest to be judged by a panel of Master Gardeners. It is a fun-filled morning that resembles an old-fashioned county fair. The categories are fruit, vegetable, herb, and florals, which are also open for kids."
The annual Fruit, Vegetable, Herb, and Flower Show is held at the Denton County Fairgrounds in June. The event is an excellent opportunity to socialize with other Master Gardeners and meet with other local environmental groups. The event surrounds a competition that judges the quality and beauty of fruits, vegetables, and flowers grown by the public. 
"Coming up, we have open to the public, Fall Into Gardening, which is a day-long educational series at Global Spheres, there are going to be different speakers on topics about fall gardening," Johnson said.
Fall Into Gardening is DCMGA's newest event. In partnership with Upper Trinity Regional Water District (UTRWD). The Master Gardeners help teach the public about water conservation, how to prepare their gardens for the following Spring, and how Autumn is an important planting time in North Texas.
"Another program we support is Roots For Wings, run by the city of Lewisville, in conjunction with the Master Gardener program, Master Naturalist, the Native Plant Society of Texas, and Keep Lewisville Beautiful. They all came together to educate the residents of Lewisville about pollinators and native plants," Johnson said.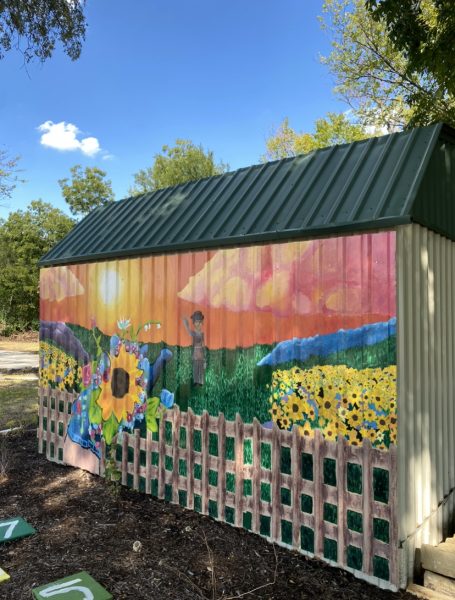 Roots For Wings was started under the current mayor of Lewisville, TJ Gillmore. The program aims to incentivize residents of Lewisville to create gardens and spaces for pollinators. The Master Gardeners help educate residents about the local environment, how to select and prepare the site for their pollinator gardens, and what native plants to use on the site. After residents complete their gardens and meet the requirements for the program, residents can apply for certification and have one of the four local environmental organizations review residents' gardens. If residents meet the requirements, they are able to become a certified pollinator garden and have an official sign from the city.
"I wanted to see this [Unity Park] become more of a park, than an athletic complex," project manager John Ankeny said. 
Another way DCMGA gets visibility is through garden projects. DCMGA has garden projects all around the county, and even one inside of Argyle. The Unity Park educational project started in 2019 in partnership with the Town of Argyle. The project's main goal is to bring beautification and education by using Texas native plants.
"I always ask the question, 'why do you go to a park?'" Ankeny said, "To relax, enjoy the serenity and beauty. There was no beauty before, but now Master Gardeners are making progress." 
So far the project has 12 small gardens completed inside Unity Park, with continued focus on maintaining those beds. In 2023, Girl Scout Troop 8016, along with the Master Gardeners, finished a major flower bed, along with the installation of a shed. On the shed local artists from Argyle High School helped paint a mural for the community. In the future, Ankeny plans to add additional native plants including Milkweeds to support the Monarch Butterfly migrations and pollinators and to add educational signage, identifying each plant.
"My advice is what's stopping you, get started," Johnson said, "Because there is gardening for anything you would want to do."
The DCMGA is open to all who are interested in educating themselves and willing to make changes within their local community. To become a certified Master Gardener one must take a year-long class that is 70 hours long, along with 70 hours of volunteer service their first year. Even if one does not want to become a Master Gardener, DCMGA always is willing to give a helping hand through their Garden Help Desk. The organization also has an active presence on social media like X, formerly Twitter, Instagram, and Facebook, showing off their work. 
"There are some things we can control, as bad as the news can be, you do have control over your area just if you take action," Johnson said.