Seniors Make School History at UIL Film Festival
The UIL film team sent nine seniors to the UIL Young Filmmakers state festival representing five films, which is more state finalists than the program has ever had. Sam Gassaway and his crew of Garrett Neff also earned the first 5A state championship for Argyle since moving divisions. His documentary film "6 Minutes for a Lifetime of Honor" premiered at the festival in Austin, TX on February 22, 2023.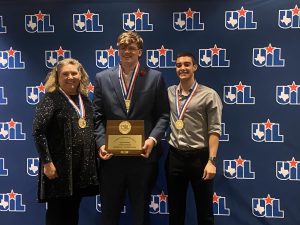 "I am so proud of our UIL film team and Mrs. Short," Principal John King said. "They proved that we have the same expectation of excellence no matter what classification we are in."
The winning documentary film, "6 Minutes for a Lifetime of Honor," follows the story of the honor guard who perform at the funerals of those who have served the country. The film's director, Sam Gassaway, moved to Texas this year as a senior from Massachusetts. 
"Being the first 5A state champion wasn't something I would've ever thought of when I first moved here," Gassaway said. "It's definitely a privilege and an honor to represent my school like this and share this veteran's story with the world."
Gassaway began making films on his iPhone and has continued to craft his skill through the years. 
"I'm so impressed with how much he's grown as a filmmaker these past few years," Gassaway's dad Cory said. "He has challenged himself with each new project and he's always expanding his skills. I can't wait to see what he does next."
Following behind Gassaway was Ashley Henderson, whose documentary film "Survivor's Pursuit" earned second place. This film told the story of her sister who triumphed after being a victim of sexual assault and was dedicated to those who suffer in silence.
"This documentary is so much more than an award," Henderson said. "I am thankful for the support I have received throughout this journey, and I am beyond honored to use my gifts to bring awareness to this issue."
Henderson's parents joined Mr. Gassaway, the Halks, and Deserae Good, in attending the festival in support of the students. Three of the six parents are also employees of the district. 
"Attending the UIL Film Festival was a true joy and honor," Henderson's mom, Melanie, said. "Being surrounded by such amazingly talented students and getting a front-row seat to witness all their creativity being showcased was truly inspiring and heartwarming."
Collin Norvell also made the podium, earning third place for his traditional animation film "Victoria Forest." Other state finalists included Rylie Halk for her documentary "If Not Me, Then Who?" and Grace May, Molly Hartjen, Jack Myers, and Henderson for their digital animation film "Last Dance."
"Getting to make a film was a dream come true," senior Rylie Halk said. "It was worth the tireless hours. Getting to tell a story was the most rewarding experience, and watching something I made on a big screen was unreal."
This year's films earned 62 points, which all go toward the end-of-year UIL Academic team championship. They also received film sweepstakes, which earns five additional Lone Star Cup Points, a UIL program that ranks the academic and athletic performance of school districts. 
"This is a huge accomplishment and will help tremendously at academic state," UIL coordinator Jessica Reynolds said. "I'm very proud of the film team."
Students were coached by Stacy Short, who has been working with students since the program's inception in 2014.
"It's amazing to see the challenge, the struggle, and the students overcoming adversity to create something meaningful," Short said. "It allows every individual to nurture something within themselves that they probably didn't even know they had."
The students worked on their films by creating stories and collecting footage for nearly a year. Films were then turned in on Jan. 18 and were put through several rounds of judging where judges made cuts and ranked films based on storytelling, technicality, and production.
"The story is just the beginning," Short said. "Learning and executing the skills to communicate, to operate cameras, lights, sound, interviews, and then to navigate a very difficult software program and put it all together; it's not as easy as it sounds."
The UIL Young Filmmakers state festival is an annual event that allows high school students to showcase their filmmaking skills and compete against other schools in the state. 
"This was my first year doing a film, so it was a major learning process for me," Henderson said. "The Festival was a representation of the blood, sweat, and tears I poured into this film. It is an absolute honor to make school history and leave a lasting legacy on this program."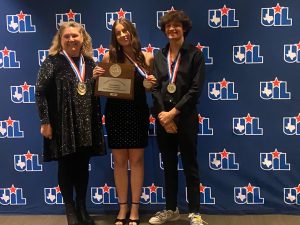 The UIL Young Filmmakers state festival is a platform for young filmmakers to showcase their talent and creativity. Short believes this year's winners have set a high bar for future competitors and have cemented their place in the history of Texas filmmaking.
"The wins this year are a testament to the power of storytelling and the importance of recognizing and nurturing young talent in the arts," Short said. "I can't wait to see the talent we have next year and see what the next generation of filmmakers has to offer."
Take a moment and check out all their award-winning work on The Talon News YouTube Channel. CLICK HERE!
Documentary
1st Place – 6 Minutes for a Lifetime of Honor
Director: Sam Gassaway
Crew: Garrett Neff
2nd Place – Survivor's Pursuit
Director: Ashley Henderson
Crew: Nicholas West
Finalist – If Not Me, Then Who?
Director: Rylie Halk
Traditional Animation
3rd Place – Victoria Forest
Director: Collin Norvell
Digital Animation
Finalist – Last Dance
Director: Grace May
Crew: Jack Myers, Molly Hartjen, Ashley Henderson
Your donation will support the student journalists of Argyle High School - TX. Your contribution will allow us to purchase equipment and cover our annual website hosting costs.
About the Contributor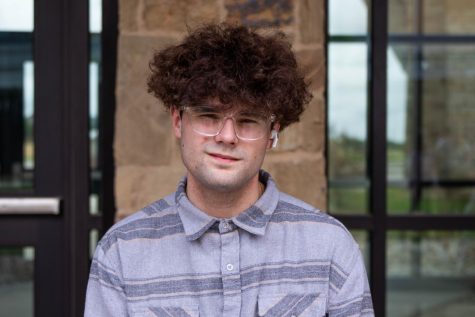 Sam Mykel, Director of Visual Media
Sam Mykel is a director for the Talon News and is in his fourth year on staff. He works in writing, livestream, broadcast, and social media, and is also...