Eagles Dominate Against Nolan Catholic
After 254 days had passed since the Eagles state championship on December 18 of last year, the Eagles finally were able to get back onto the field and defeat Nolan Catholic in the Tom Landry Classic. 
Despite losing a majority of their starters, both on offense and defense, the team was able to dominate, defeating the Vikings 45-29.
"I'm working on filling Tito's shoes as well as my brother Luke Farris," Running back Landon Farris said. "Every day is still just a grind, trying to get better and better."
Both offense and defensive lines stepped up in the game helping Argyle keep Nolan Catholic in check. 
"They looked polished," Head Coach Todd Rodgers said. "Our kids knew what to do, they need to get back into the rhythm of it but our kids are sweat-hogs out there."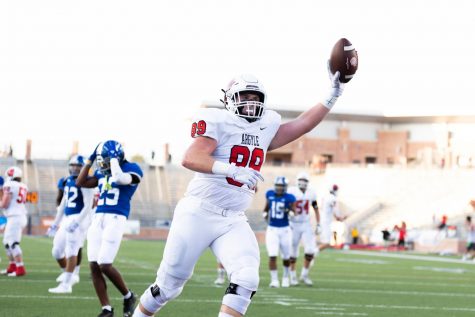 The returning seniors and captains stepped up and lead by example, helping create big games for their new younger teammates.
"Returning leaders and returning team captains and our seniors are just the backbone of a championship team," Rodgers said.
Juniors Landon Farris and Riley Van Poppel were named offensive and defensive MVPs after their impact performance last night for the Eagles.
"It's a very fun experience," Farris said. "I'll never forget what happened tonight."
Quarterbacks Jacob Robinson and Zach Ohlemeir both were able to get playing time as both showed out and threw for over 100 yards and at least one touchdown each.
"They both played good, they aren't doing anything wrong," Rodgers said. "We just need to figure out who's going to be the guy and we're going to continue working on that just like all our kids who are going to play."
Tonight's win marked the start of a new season for Argyle and the next run at a state championship. The Eagles play Pleasant Grove at home on September 3.
"Well they all did amazing," Farris said. "I expect that every game, we practice hard and those guys know what they're doing."