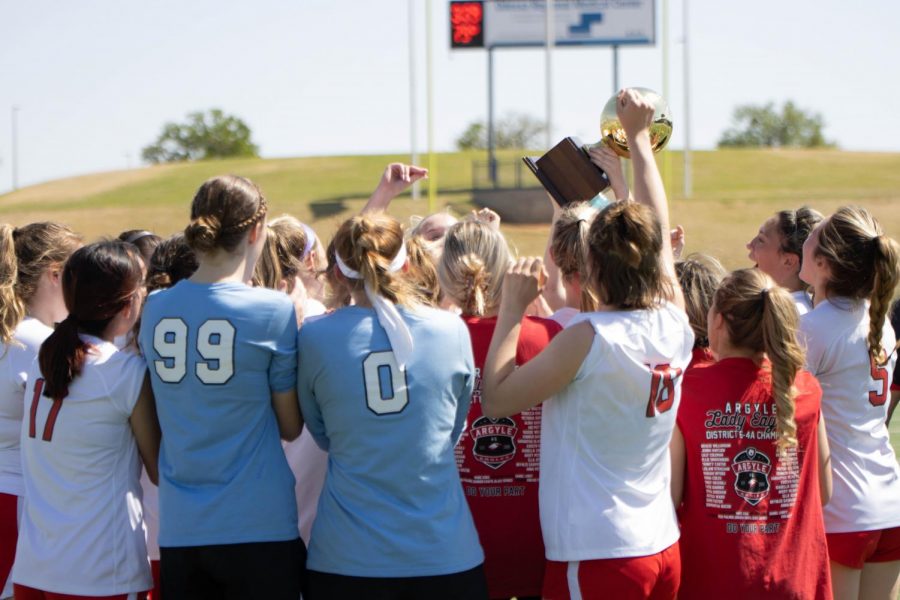 Girls Soccer Advances to Regional Finals
April 9, 2021
"There is only one goal," head girls soccer coach Mark Koke said. "State Champions."
The girls soccer team is making history this season as they are currently on their longest playoff run in school history. The team currently has a record of 21-3-2 and finished first in district after going 8-0 during the season. 
"We have a very talented group this year," Koke said. "They are very talented and the chemistry between them is great."
The eight seniors are helping lead the team to a state championship in their last season.
"This is the biggest senior class we've ever had," Koke said. "They lead by example and are vocal leaders as well."
Senior captain Rebecca O'Neal has been a big part of the team's success this year and is a vital leader on the team.
"Being a senior and a captain, there is obviously a lot of responsibility that comes with it," O'Neal said. "Everyone on the team has been great and cooperative. It's really great getting to be a bigger part of the team and being able to help and lead the rest of the girls."
The girls have had a 'Do Your Part' mindset, which encourages the players to make an effort to stay healthy. 
"Our team motto this year was 'Do Your Part'," Koke said. "They have all done their part on and off the field to ensure we have a successful season."
One thing that has helped the team have such success is the bond and chemistry between the players.
"We all get along and are close friends with each other," O'Neal said. "Us being friends and respecting each other helps set an example for the team and has helped make this year go so much smoother."
Much like everything this year, COVID-19 has been a roadblock for the team, but they have been able to work their way around it and stay healthy and safe.
"We've been focused this season on doing what we can to win state and stay healthy," O'Neal said. "We decided our motto would be 'Do Your Part' with the main focus being to be smart about what we do and wearing our masks to stay safe."
The seniors have been able to help make school history this year and are looking to close out their final year with a state championship.
"It's been really fun getting to all be together and finish our last season with each other," O'Neal said. "This team has made my senior season incredible and one I'll never forget and I couldn't be happier or more proud of all of us."
The girls team is currently three games out of a state championship and are ready to add another ring into Argyle's resume. 
"We are all just doing everything we can to make our state run possible and play our best each game," O'Neal said. "We've already made history over our last few games so we might as well go ahead and win the whole thing."