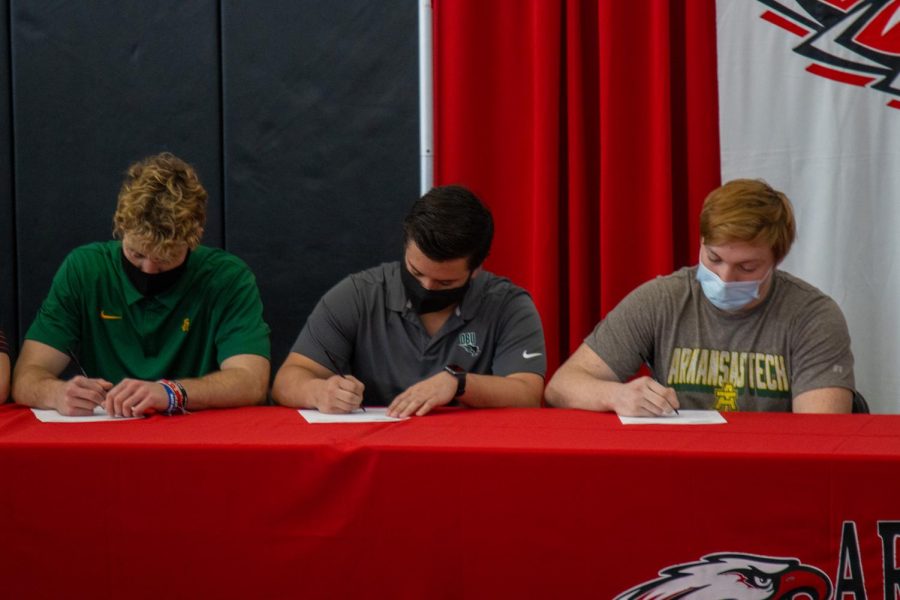 Nineteen Seniors Sign Despite COVID-19 Challenges
February 12, 2021
Despite the many challenges COVID-19 brought to each sport, nineteen seniors signed their National Letter of Intent throughout this school year and will go on to continue playing at the collegiate level. 
"COVID-19 made the recruiting process very difficult actually," senior and Lawrence University soccer commit Rebecca O'Neal said. "Junior year is the prime recruiting year and schools were in a dead period and travel was limited. It was hard to visit schools which is a big part in making a decision."
The pandemic also forced colleges to cut back on the amount of money that was made available to this year's class.
"COVID-19 has affected softball recruiting so much," senior and Tyler Junior College softball commit Lilly Coleman said. "With all colleges giving last year's seniors an extra year of eligibility that takes away money that they would have given out to the 2021 recruits. That was the hard part, finding schools who had money to give."
Additionally, since many college sports lost their spring season, some universities allowed seniors to play another year to make up for their lost season.
"[COVID-19] has made it a lot harder to find a place to get recruited because of some teams not having a season," senior and Oklahoma Baptist University football commit Reece McCue said. "They get to have their seniors back so spots are limited."
Although individual sports haven't been as affected during the game, they have still felt the impact of COVID-19 throughout the recruiting process. 
"Recruiting has been seriously affected because we weren't able to take as many visits or in some cases couldn't even take a single visit," senior and Kentucky Wesleyan College golf commit Blake Kelly said. "My senior season hasn't been affected [as much] since we don't have to be close to people on the course."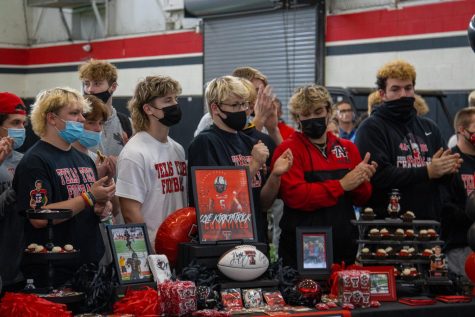 The National Collegiate Athletic Association (NCAA) currently has a dead period that started in March 2020 and is supposed to be lifted in April 2021. This dead period prohibits in-person contact with coaches or teams. 
"Most of the 2021 recruits had to choose a school based on information they got online, without being able to see the school or meet the coach in person," senior and Texas A&M University pole vault commit Regan Ruffner said. "I was fortunate enough to have been to Texas A&M several times and have met the coach through a previous track and field summer camp."
The pandemic has caused athletes to appreciate every time they are able to play their sport.
"I definitely cherish every moment I'm on the field with my teammates as much as I can," senior and Oklahoma Wesleyan softball commit Blythe Wickstrum said. "I never know when could be the last time I play with the COVID virus causing so many changes."
Seniors are remaining optimistic about playing in college, even though the future with the pandemic remains uncertain. 
"COVID-19 has been every unfortunate but I was in luck because I was recruited and committed before the pandemic," senior and Clemson University basketball commit Sydney Standifer said. "I am most excited about getting to play at the college level and be surrounded by people that have the same goals as me and know what's truly important."
While being on a sports team teaches hard work and dedication, it has also given athletes a family within the sport.
"There is a whole pole vault community that loves and supports everyone who is in it," Ruffner said. "Everyone within this community genuinely wants the best for every vaulter and loves the sport for the exact same reason. The friendships I have made in pole vaulting will last a lifetime and I have met so many amazing people because of it."
Many athletes also appreciate the community aspect and support found in the town. 
"Argyle made me realize how good I actually could be and gave me the tools necessary to achieve the goals I wanted to," senior and Hardin-Simmons University football commit Darren Chapa said. "My favorite memory from the 2020 football season was going up to Coach Lundy after we won state and just thanking him for giving me a chance."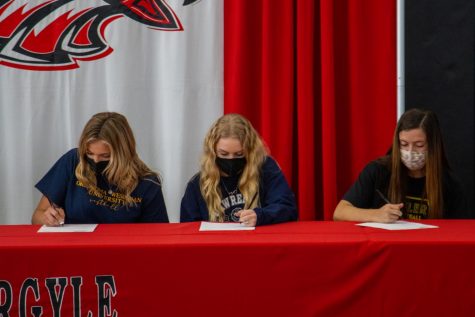 The driven nature established in the community has allowed the athletes to further develop their skills.
"Argyle has shaped me into the athlete that I am today because of the amazing coaches that I've gotten to work with, the competitive nature of the school, and the opportunities I have received," Ruffner said. "The coaches have pushed me from day one to become the best athlete that I can be while supporting me 110% along the way."
The hardships the grade has faced have given them a new perspective on the college athletic experience.
"I'm excited to make new friendships and take my skills in softball to the next level," Wickstrum said. "It has always been my dream to play softball in college. I'm extremely excited to also be able to further my faith at Oklahoma Wesleyan and strengthen my relationship with Christ."
The athletes look forward to the opportunities they will be given at the collegiate level.
"I'm excited to meet new people, be on a new team and be developed by a new program," Kelly said. "I am also looking forward to learning more about the game."
Although the COVID-19 pandemic has greatly impacted their high school careers, the seniors remain optimistic about their future. 
"What I am looking forward to the most about vaulting at the collegiate level is doing God's work on a bigger platform," Ruffner said. "This opportunity will allow me to show younger vaulters how to act, how to be respectful, and how to be a Christian on and off the track. Being able to pole vault on a collegiate level opens so many doors to allow me to inspire others and be a role model for them."