St. Argyle's Cajun Kitchen
January 22, 2021
Everybody loves the small-town feel of Argyle. Homestyle cooking is one part of Argyle that people love. The little strip on 377 has always been home to some amazing restaurants.
Recently, members of The Talon staff went to St. Argyle's Cajun Kitchen, the new Cajun restaurant which took the place of Fuzzy's.
Upon entering the restaurant, our orders were taken and we paid immediately before taking our own seats. The experience felt unique, but there were elements of fast food dining mixed in. For the most part, things were very self-service oriented as customers are able to grab sauces, drinks, and other side items. Another upside of the service is how fast the food came out.
When it came to food, the restaurant really excelled as we enjoyed almost everything we ate. I ordered a side of red beans and rice, the fried chicken po'boy meal (which included fries and jalapeno hush puppies with a side of blackened ranch), and a soft drink.
Other members of the group ordered fried catfish, popcorn shrimp, and chicken fingers which also included varying sides such as fries, hush puppies, and coleslaw. In addition to this, we also had to order beignets as they are a staple in any Cajun restaurant.
The meal was exceptional in every way. My only complaint is that the jalapeno hush puppies were a little bland. Outside of that, the sandwich was great and the red beans and rice were the best I have ever had. The fries were unique in shape and texture and seemed more akin to potato chips than traditional fries. However, despite this, the fries tasted exactly as any other fries would. This in combination with the blackened ranch really made this meal as a whole a great experience.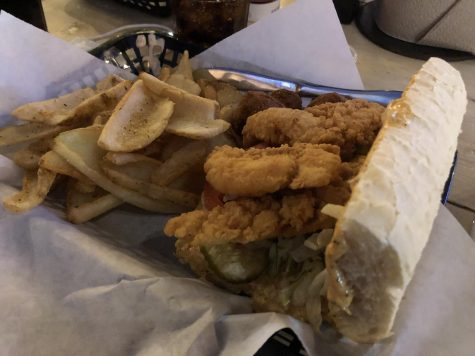 The general consensus from the group was that the chicken fingers were definitely lacking in the flavor department and were carried solely by the sauce. However, the catfish was well-received due to its great flavor. The only other complaint we had was with the coleslaw, which at first seemed good and had a unique dressing but we found that there was an overwhelming amount of kale within the coleslaw which overtook the flavor and made it generally unenjoyable. In the shrimp and chicken, we thought the shrimp was really good with an amazing seasoning and a nice crust, although they were a little tough and greasy. The chicken strips were pretty average, like any other restaurant's. We thought they could use some seasoning to give them a little more pizzazz or uniqueness.
Overall we found the restaurant to have a great atmosphere. It feels incredibly comfortable and reminiscent of varying locations that could be found in New Orleans with different sections of the restaurant being subtly themed after varying locations and things that would typically be seen in the area. It brought a feel of authenticity to the experience which was great. Additionally, tucked away in a little corner of the restaurant was a pool table where we were able to gather around to play some 8-ball and 9-ball after our meals.
At the end of the day, we decided that the restaurant was definitely deserving of a 9/10. We had very few complaints and just really enjoyed our time overall. This is definitely a must-try for anyone who enjoys good Cajun food or just a good meal overall.