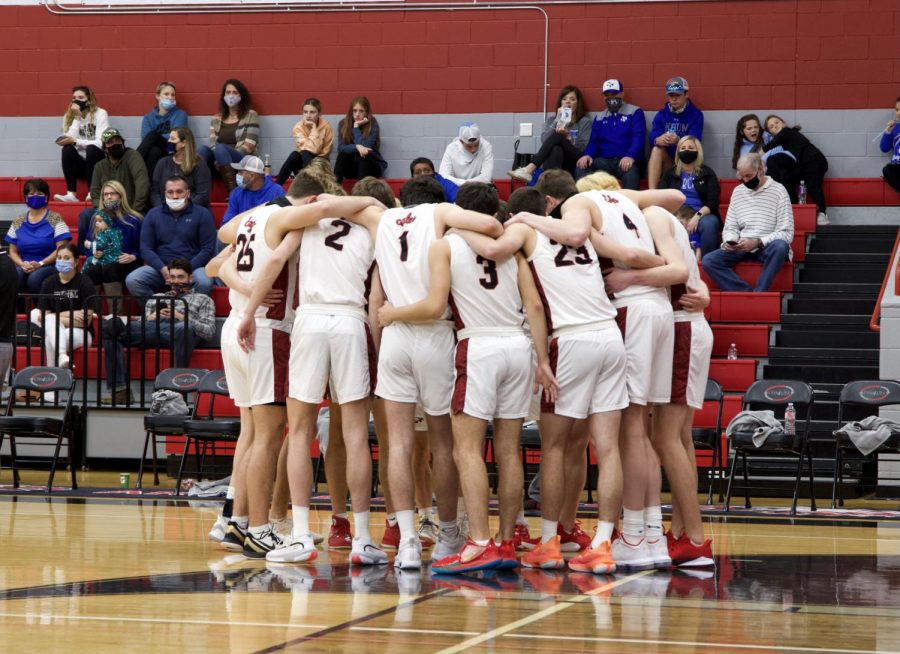 Senior Leaders Drive the Goal
January 26, 2021
In a close game, down two in the fourth quarter, the Eagles are in dire need of a score. Senior point guard Skylar McCurry inbounds the ball to junior Eli Valentino and with seconds left on the clock, he passes it to senior Nate Atwood who sinks the layup and draws the foul. Atwood makes the free throw and the Eagles win the game 41-40.
Six-foot-six Center Nate Atwood has been a part of the basketball program since the 7th grade and has been a natural leader every year. 
"He leads everything that we do," head basketball coach Russell Perkins said. "He is very critical to what goes and to the way that we try to play."
Along with Atwood, other seniors have emerged as leaders and been essential to the overall success of the team.
"The seniors have all stepped up this year," senior Grey Goodson said. "Nate and Skylar have been big leaders and all our seniors have been leading the team this year."
After having their season abruptly cut short at the state championship tournament, the team is looking to come back strong and achieve greatness again.
"We didn't get to play in the tournament last year," Perkins said. "It was cancelled while we were practicing. Our expectations are built upon what we saw last year and they haven't changed. It's a lot of fun watching these kids play and we know we all want to win."
Despite having to follow strict rules regarding COVID-19 and being uncertain of future games, Atwood and the team still put in hard work every day during practice and will not let the virus affect them.
"We had a player get quarantined at the beginning of the season but we all stay focused, wear our masks and do our best to stay healthy," senior Hunter Lawson said. 
Both the senior leaders and coaches are trying to keep spirits up and make the most out of everything while in these troubling times.
"The key for us is to just enjoy every day we get to do things," Perkins said. "Even if we have to space out and wear a mask, we don't let it affect us and enjoy what we do." 
Looking ahead to post season play, the team's main focus is to win a state championship.
"We all know this year has a lot more riding on it than any other year," said Atwood. "We are constantly pushing ourselves and each other to get better. Every chance we have to get better we are taking it."