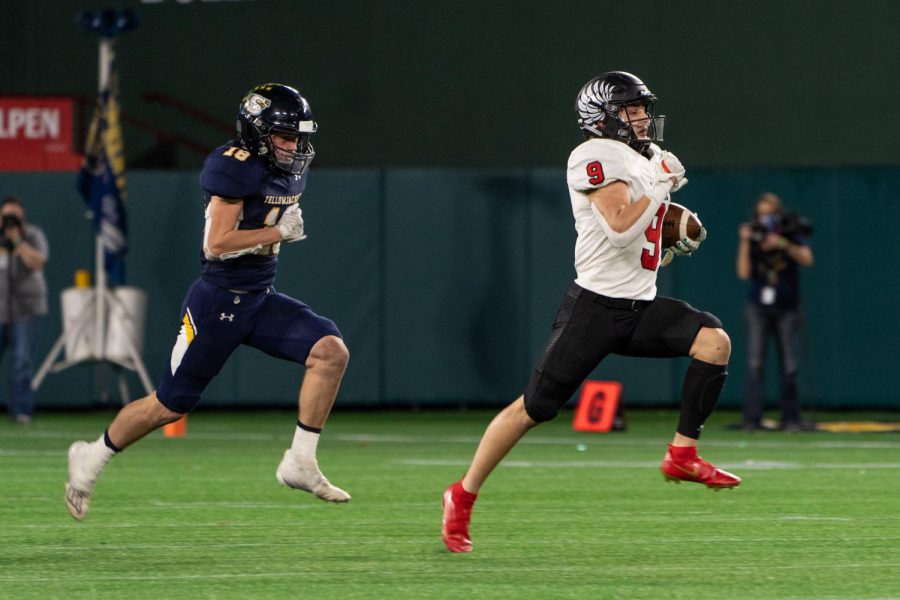 Touchdown Tito
Senior running back leads team through playoffs
December 10, 2020
Argyle leads the Waco La Vega Pirates 14-7 in the third quarter and are looking to put the game away leaving with another playoff victory. Only 19 yards away from the endzone, they turn to #9 Tito Byce. The ball is snapped and placed into Tito's hands and he takes it all the way to the house for another Eagle touchdown. The Eagles hold onto their lead into the 4th quarter and win 28-14.
Tito has been able to fill up the stat sheets this year totaling 690 rushing yards and 13 touchdowns so far on the season and his production doesn't seem to be slowing down anytime soon.
"Tito is an accomplished running back," Athletic Director Todd Rodgers said. "He has a great vision for the field."
Despite suffering a season-ending injury last year, Tito has been able to come back and make his presence known to defenses.
"It's great having a guy like Tito back," senior tackle Jack Tucker said. "He brings energy and big plays."
The Eagles know Tito is a huge part of the team and having him gives the team a winning spirit.
"It gives us plenty of confidence when we have a big drive when we need to get points," Tucker said.
Byce was a huge playmaker in the Eagles' win against La Vega and Paris contributing a combined 33 carries, 220 yards, and a touchdown.
"There's a huge difference with Tito than without him," Tucker said. "If we didn't have him last week I don't know if we would have won the game."
Tito is able to help motivate the team as a leader and has been a great mentor for his younger teammates.
"Tito is a great teammate and he demands excellence," Rodgers said.
Byce and the Eagles look to continue their season with a win against Canyon on Friday, Dec. 11.