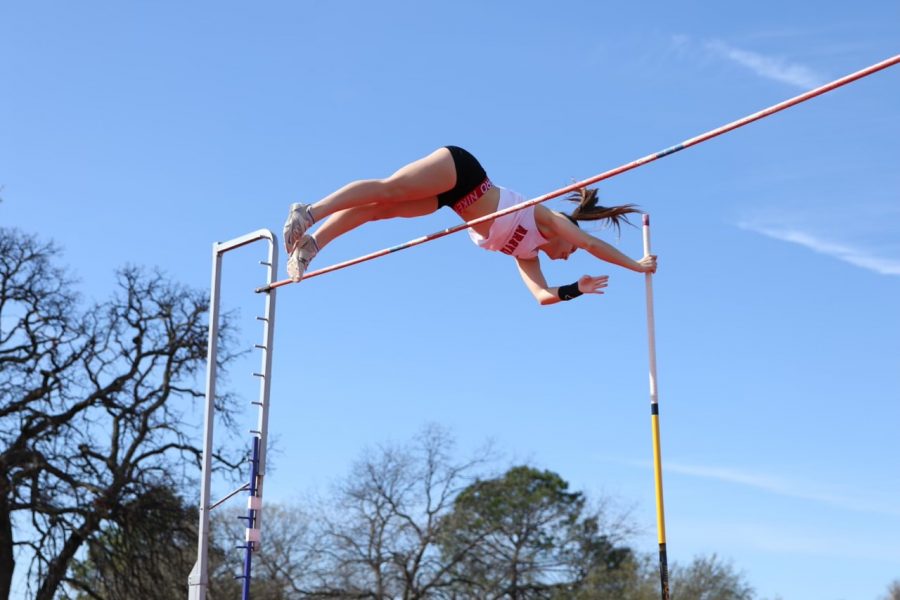 Soaring to Success
December 9, 2020
Senior and varsity track runner Regan Ruffner signed a scholarship with Texas A&M University for pole vaulting and will continue down the path of achieving her lifelong dream of becoming an Aggie. 
"I grew up as an Aggie because my grandfather, both my parents, and now my brother has gone to or currently attends Texas A&M," Ruffner said. "The first day of pole vaulting, I knew that I wanted to become a collegiate vaulter, specifically at A&M. I have a letter that I wrote and signed two years ago that states 'I will do anything that I can to become an Aggie pole vaulter, I have never wanted anything so badly in my life.' Receiving that scholarship was a literal dream come true." 
Although her advanced performance would make most people think otherwise, Ruffner has only done pole vault for about three years. Prior to entering the sport, she was a competitive gymnast from the ages of 2-14.
"I tried pretty much every track event that the school offered, but didn't really excel in any of them," Ruffner said. "My mom had heard about pole vault and knew that a lot of gymnasts try it when they are done with gymnastics, so we decided to sign up for a practice at a local club and I instantly fell in love with it after one practice."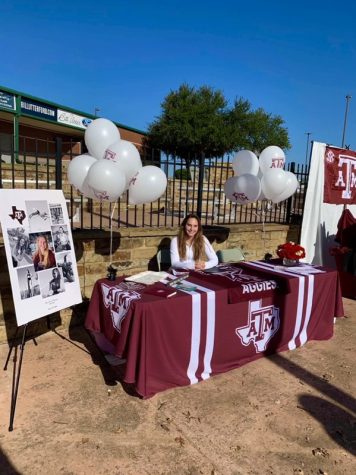 Ruffner has experienced several rough patches throughout her pole vaulting career and has used the hardships to push her towards success. 
"Her work ethic and drive has paid dividends in her success," track coach Greg Martin said. "She didn't let the stoppage of her junior year track season get her down. It only added to her resolve to get better."
Ruffner's career in gymnastics aided in her exceptional performances over the last few years in pole vaulting. Whether it was observed by her coach or teammates, Ruffner's determination and dedication in the sport never went unnoticed. 
 "One thing that really stuck with me throughout my pole vaulting career is something someone said to me one time in regards to my pole vaulting career," Ruffner said. "He said 'It is amazing that Regan has stuck with it through all she's gone through; I probably would have quit by now' which really meant a lot because it showed that others noticed my dedication and motivation to never give up." 
Varsity track runner, Sarah Runyon, has been in track with Ruffner for three years now. Runyon says Ruffner is an amazing teammate and her personality lifts others up.  
"She's very dedicated to pole vaulting and will push herself to be the best she can," track teammate Sarah Runyon said. "Regan has grit and has worked hard to get where she is."
One quote that has changed Ruffner's outlook on the sport says: 'Once you step on that runway, you can be anyone that you want to be… so go be that girl' -Coach Morry Sanders.
"When I am at a meet and I step onto the runway, I become a totally different person," Ruffner said. "Every ounce of motivation that I have flows through my veins and allows me to be the vaulter that I want to become. Being on the track allows me to get away from everything and be the person that I truly want to be."
After observing other track events during meets, Ruffner noticed that pole vaulting has one noticeably different feature. Unlike other events, not only do these teams cheer on their own, but also the other teams as well. 
"Pole vaulting is a huge community in itself," Ruffner said. "Every pole vaulter genuinely wants the best for each other and wants everyone to do their personal best. Also, the respect and integrity that pole vault teaches its athletes is a huge part of my outlook on the sport."
Pole vaulting has also allowed Ruffner to be grateful for the opportunities she has been given. 
"I was personally taught to shake the official's hands right after I finish jumping to thank them for running the meet," Ruffner said. "This teaches respect for your superiors and teaches you how to be grateful for the opportunities that you get. Even if you didn't jump your best, thanking the officials shows sportsmanship and allows you to feel grateful for every opportunity you have."
Aside from teaching her respect and dedication, Ruffner believes pole vaulting has taught her valuable life lessons as well. 
"The most important aspect there is in achieving your goals is setting your mind on that end goal and doing anything and everything you can to get there," Ruffner said. "Achieving these goals aren't always as easy as they seem. They require hard work, dedication, lots of time and most importantly, sacrifice. Sacrificing things that might be the 'easy way out' or what everyone else is doing is what sets you apart and will allow you to persevere."