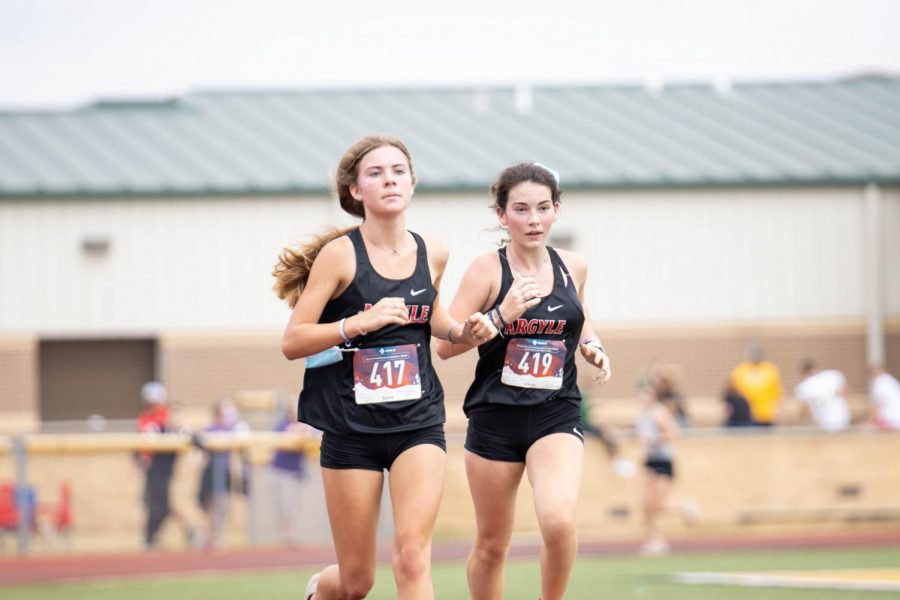 Cross Country Heads to Region
November 4, 2020
After winning District last week, both cross country teams are headed to the Regional competition on Nov. 10. This is the first season that the boys' cross country team has won District since 2012, and the first time since 2013 that the girls' cross country team won. 
"They are a humble group that won't boast about their 4A pre-season ranking of 3rd and holding on to a top-ranking of 4th in the state as we enter the championship season," girls head coach Greg Martin said. "This is a great group of dedicated runners who have been training since the end of the track season in April."
Practices have remained the same this season, but the players' mindset going forward has shifted.
"We didn't really do anything differently as far as our training goes," boys head coach Lance Sutton said. "but I think their focus and determination were heightened this year. Obviously, one of our main priorities, if not the main priority this year has been to just stay healthy, and I think all of the measures we put into place for that really contributed to our success. The other thing I would say is that their expectations this year were different."
The coaches both agreed many factors contributed to their teams' success. 
"We only lost two runners from last year's fourth-place State team," Martin said. "So we were able to pick up from that success early on in the season. We also have a mix of veteran and first-year varsity runners to keep everyone grounded in the process, yet motivated to succeed."
Senior varsity runner Alli Johnson placed 13th at the 4A State meet last year, and is hoping to improve upon that this year. 
"My main goal is to make it to state this year and place in the top 20," Johnson said. "I am planning on continuing to train with the boys, which has helped me a tremendous amount, although it is challenging."
As the teams get closer to the end of their season, they are focusing on what they can do to improve their training. 
"My biggest accomplishment in cross country is when I ran a 16:50 at regionals last season," varsity runner Nikolas Jacobs said. "My goal is to beat my personal record from last year, and the team's goal is to go to state."
The team has identified several areas to improve on as they reach the ending of their strong season.
"Obviously, to be a good runner it's important to train consistently and really give a good effort at practice, but so many other things go into it as well," Sutton said. "Sleep, nutrition, hydration, stretching, and 'pre-hab' as I call it are just a few of the little things that play a big role in making a good runner. I think we've improved a ton over the past few years about taking those little things seriously, but there's definitely plenty more room for improvement with those."
Although the team has already had a successful season, they are not looking at finishing anytime soon. 
 "As we taper down our workouts we need to focus on closing speed and maintaining our health," Martin said. "A District championship was just one step in the right direction of achieving our goals for the year."