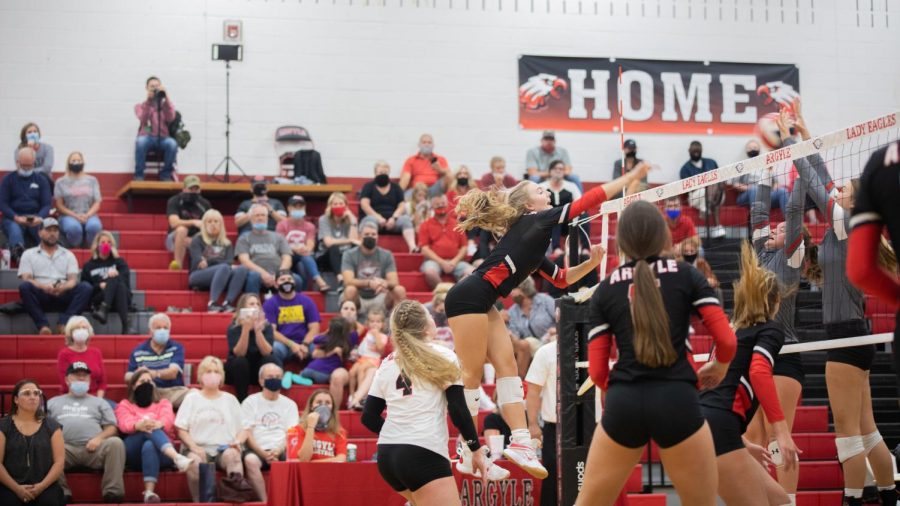 Lady Eagles Look to Finish Season Strong
October 1, 2020
With their winning record of 15-6, the Lady Eagles are halfway through district play and are looking to finish strong. This Friday, the Lady Eagles will take on Springtown at 4:30 p.m. for their homecoming game.
"Our biggest accomplishment has been coming together and meshing as a team with nine new players and very [few] games to prepare before district started," head coach Megan DeGroot said. "The plan is to continue improving on our block and defending the attack according to how our block is positioned."
The team has several things they would like to work on moving forward.
"One thing I would like to improve on as a team is playing for each other, and trusting each other on the court," freshman outside hitter Shaye Feely said. "My main goal for moving forward this season is to go to state."
One of the most important things for the team is working cohesively and focusing.
"As a team, I think we could take practice a little more seriously, and be more excited on game days," junior libero Jada Price said. "Volleyball is a team sport and because this is a new team, we are still bonding and getting to know each other on and off the court."
With only six district games left this season, the Lady Eagles are looking to seniors Andie Piel and Ella Payne to lead them into the playoffs. Payne moved to Argyle her sophomore year and has since been named Newcomer of the Year for the district and has proven to be valuable in many areas of the game. Piel has been on varsity since her freshman year and was part of the team that finished state-runner up in 2017.
"Andie Piel has been on varsity for four years as a defensive specialist and setter," DeGroot said. "She will have won over 100 games by the end of the year."
As the district season is coming to an end, emotions are high. Everyone is hoping to reach their full potential in order to advance far into the playoffs.
"I want to go to state for our seniors," Feely said. "Our team wouldn't be the same without them."