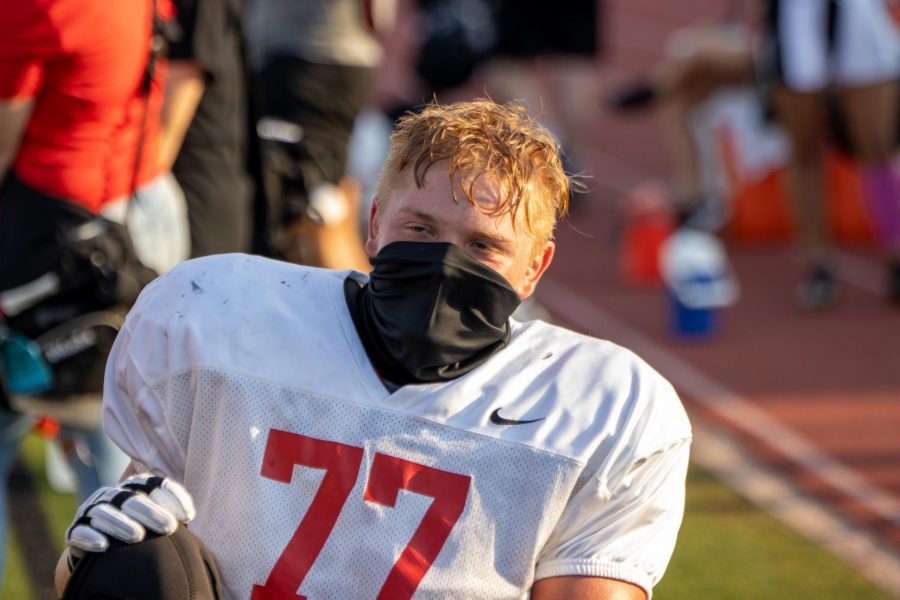 ©The Talon News | Josh Fritz
New Changes Implemented as School Opens
August 28, 2020
This school year has just started and is already looking completely different from any year in the past. Students are walking the halls while wearing masks and spacing out from their peers. While these changes are certainly setbacks, the school is continuing to work toward their goals. 
The school implemented many new practices this year to try and keep the students and staff safe and healthy during these difficult times.
"We are following all guidelines set forth by the school district," Theatre Director Melissa Toomer said. "Hand sanitizer before entering, seats are spaced out as much as possible, wearing masks, etc."
Along with the theater department, the football team and band are also implementing changes.
"This year all of the band members have been required to wear masks while not marching or playing, complete temperature check forms, and social distance when possible," senior band member Isabelle Gilbert said. 
"We never got to finish the offseason or engage in spring football," senior defensive back Hunter Roberts said. "Preparing, training, locker room life, and practice have looked a lot different because of the virus."
One of the biggest changes to the extracurricular schedule this year is the cancellation of the annual production put on by the theater department.
"A big musical just isn't feasible right now with all of the guidelines in place," Toomer said. "My hope is that at some point during the school year we can return to the stage and put on a great production."
The band is preparing for a chance to compete for a state championship while also facing the new changes and challenges.
"This season is a chance to refocus and see what is truly inside you as you handle the very unique challenges that are in front of us," assistant director Asa Burk said.
Despite all of these obstacles, the goal for everyone is still to be great and to overcome these challenges no matter what obstacles they are faced with.
"Nothing has changed our goals," Head Football Coach Todd Rodgers said. "We want to win a State Championship like every other year."